Last weekend we rearranged a little furniture. Took pieces to the attic I was tired of, and brought new ones down. I wanted a desk in the Great Room where we spend most of our time, so we man-handled down a little handmade desk my aunt gave me years ago. In the process, I found this cute little desk lamp in the attic I had forgotten about.
The only thing is, it's a bit overly shiny brassy, and the lampshade is boring, but the lamp is just the right size for the space.
Since C'mon Get Crafty, or "Craft Room Destash," as it was formerly called, was coming up, I thought about updating the brassy lamp with a bit of paint and scrapbook paper as my project for the month.
I have loads of scrapbook paper, napkins, old magazine pages I picked up free at a garage sale…lots of things with which to update the lamp, and give it a bit of shabby chic love.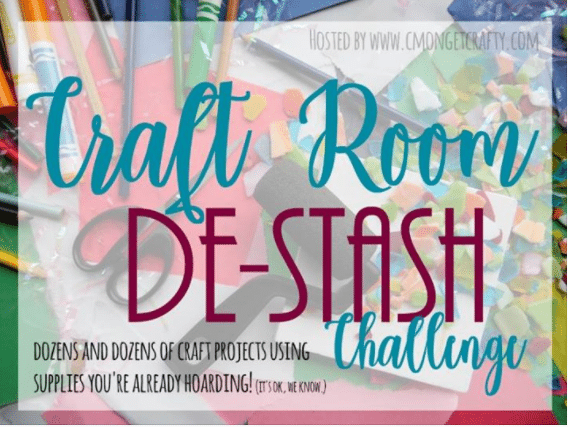 Before we get on with the project, here's a little info about C'mon Get Crafty.
Every month a group of bloggers are challenged by
C'mon Get Crafty
to create a new craft or project from their own stash of goodies! Check out some awesome creations you might be able to make from your own stash! #CraftRoomDestashChallenge
[clickToTweet tweet="What crafty creations could you make today from YOUR craft stash?! #CraftRoomDestashChallenge" quote="What crafty creations could you make today from YOUR craft stash?! #CraftRoomDestashChallenge"]
How to Update a Brassy Desk Lamp with Paint and Scrapbook Paper
Painting the Lamp:
Don the paint clothes
Set up the high end paint station

High End Paint Station

Use masking tape or Frog Tape to protect the parts of the lamp you don't want painted
Spray paint the lamp with primer first (I used Zinsser Primer). It dries very fast. I applied 2 coats.
Follow with your main paint color. I used 2 coats Krylon Classic White Chalky Finish paint.
Updating the Lampshade
The lampshade was pretty ho-hum to begin with, and the pleats quite brittle from being exposed to years of attic heat. Trust me, the photo is much too flattering!
The most time-consuming part of the project was making a template for the inside of the shade.
I did that by piecing together strips of newspaper around the inside of the shade to get the correct dimensions. Here's the finished template.
I found scrapbook paper I liked when I was fooling around one night trying to get a new look for the shade.
I was worried that stiff scrapbook paper wouldn't adhere well to the inside of the shade, but it did.
It helped that there was a smooth plastic inner lining rather than lampshade fabric, which would not have worked.
Simply place your newspaper template on top of the scrapbook paper and trace around it, BUT…
TIP #1: Make sure that your design is right side up. (ask me how I know this.)
TIP #2: Make sure you're tracing around the correct side of the paper.
TIP #3: The process is easier if you choose paper with a uniform design. 
Due to the square size of the scrapbook paper, the final lampshade liner was in 2 pieces, making it harder to match the design..
Once you have your 2 pieces and know where to line them up inside the shade, you're ready for Mod Podge.
You need to work quickly, mod-podging the design side of the paper to the inner shade lining, which also should be mod-podged for good adherence.
Fit your new shade lining into the shade (and pray)!
As I told my husband, when I do a project, I want to do it perfectly. Ha! And this isn't perfect. But it turned out a huge improvement over what was! The outside pleated shade gives a muted look to the paper and I really love it near my curtains.
If needed, there are ways to disguise lampshade mistakes such as gluing on buttons, ribbons, or doilies so that they look intentional. I may glue some trim over the top and bottom rims of the shade for a bit of extra bling, but for now, I'm happy.
If you purchase of any of the products below, I earn a small commission to help support this blog, but you don't pay a penny more. For more info, see my Disclosure Policy. 
Hope you enjoyed the post! Have you ever done a lampshade project? I'd love to hear about it in the comments.
Sharing with these link parties…
Be sure and check out the projects of my talented blogging pals below~
Before you go, here are 2 more favorite lampshade projects~