I'm going to tell you a little story about how Rescued Holiday Candoliers Get a Fun Makeover!
I usually buy these vintage plastic candolier sets when I go to yard or estate sales.
Believe it or not, they sell! In fact, a couple of years ago, I sold one of these bigger 8-candle sets to a person in Paris, France. The shipping alone was over $70 (!) because such a long candle set has to have a big box, putting it in the more expensive Priority Mail International category.
***Before you read any further, I wanted to mention this post is a part of the monthly Thrift Store Challenge.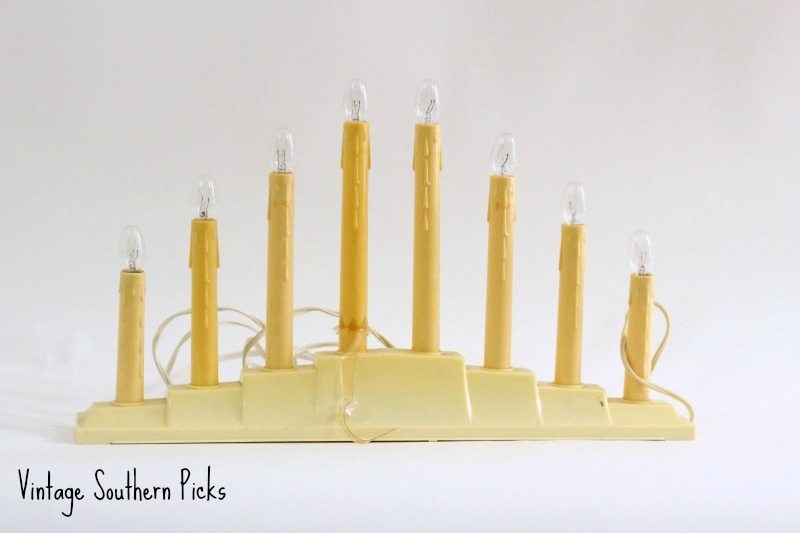 The Rules:
Upcycle an item(s) from a thrift store, resale store, or garage sale into a new piece of decor.
There's no monthly theme.
There's no budget to stick to.
Meet the Hosts
Amanda | Domestically Creative – Pili | My Sweet Things
Angela | Simply Beautiful by Angela – Jeanie | Create and Babble
Molly | Just a Little Creativity 
Marie | The Inspiration Vault – Michelle | Michelle James Designs
Shirley | Intelligent Domestications – Dru | Polka Dot Poplars
Pam | P.S. I Love You Crafts – Gail | Purple Hues and Me
Jennifer | Cookies Coffee and Crafts – Toni | Small Home Soul
Sue | A Purdy Little House – Kathleen | Our Hopeful Home
Victoria | Dazzle While Frazzled – Marie | DIY Adulation Michelle | Our Crafty Mom – Debra | Shoppe No. 5
 Denise | My Thrifty House
Florence | Vintage Southern Picks – Ann | Duct Tape and Denim
Yamilette | The Latina Next Door – Maureen | Red Cottage Chronicles
Make sure you follow our board on Pinterest for more upcycled decor inspiration!
Before blogging, I sold through a booth getting lots of inspiration for projects from a blogger I loved. This candle project was inspired by Carol from ThePolkaDotCloset.com.
Back then I devoured everything Carol said, even though she warned that "what sold for her may not sell for you". Sure enough, I was terribly disappointed my "Blinged Up Vintage Candoliers" didn't sell. The now "duds" came home, were tossed in a box where they sat forgotten for 4 years.
During my latest post-Christmas purge, I found them again and plopped them quickly into the donation pile.  But as I recalled all the labor I went through for these masterpieces, I had second thoughts. I decided they might not be so "dud-ish" after all.
Maybe…just maybe I could rescue and use them!! That's quite a revelation, you see, because I rarely keep anything I've bought for resale, even if I want it.
These Rescued Holiday Candolier Makeovers happened a few years ago before blogging, but I thought I would share with you how I revived them.
Basic Improvements for Vintage Holiday Candoliers
When I say "improvements," if you've ever seen or handled these candolier sets, you know they're flimsy and top heavy. They fall over constantly because they're made of lightweight plastic with narrow bases. Some of the modern sets even come with suction cups so you can stick them to windows.
The Improvements:
I made up a solution of wet grout, adding it to the inside of the base. Believe me, it works wonders for these sets!
Allow to dry.
Then I covered the base with thin cardboard and felt to finish it.
Spray paint with color of your choice.
Decorate Candoliers with Bling!
This is the fun part, and the sky's the limit!  I have a big stash of everything, but my problem is, I have a hard time thinking up clever ways to repurpose things. Is anybody else in this boat??? I have old jewelry bits and bobs, LOTS of doilies, buttons, ribbon…you name it. And of course, I can't bear to throw any of it away because Murphy's Law says, "as soon as you do, you'll need it."
Before Carol, I promise I didn't know how to do anything. Growing up, we never did crafts at our house.
From Carol, I learned how to make fabric flowers.
From Carol I learned how to decorate things with old buttons and jewelry
From Carol I learned how to make use of broken pieces of china
From Carol I learned how you could even use stained doilies in projects (GASP!)
In fact, I'm certain Carol and my Mama were related because neither one threw anything away!
So I blinged up these candoliers with my homemade DIY flowers, stashes of stained doilies, broken jewelry, strips of bridal bling, old broken hair barrettes, bits of ribbon and buttons, bits of bead trim, a velvet rose from a box of candy, and a few stick-on rhinestones and faux pearls I bought.
And the more I looked at my blinged up vintage holiday candoliers, the better I liked them! I was especially drawn to the ones I painted white. I decided to display them in front of an old oak piece we found last year at a yard sale for $20.
They looked good! Both hubby and I liked them, but something was missing.
Ah, the bulbs! Such masterpieces somehow deserved better than those old blah, boring nightlight bulbs. A search on Amazon and we found flickering candlelight bulbs. (Affiliate link below). We couldn't wait for them to arrive and weren't disappointed!
These vintage candolier sets look amazing on the mantle now, so good that I even splurged on a faux magnolia leaf garland to cover up the electrical cords. I can't tell you how pleased we are with the whole set-up.
In fact, almost everything on this mantle is a thrift store, yard or estate sale find. From the beautiful carved oak mantle piece ($20), to the candolier set ($2), to the lead crystal angel, right ($2.50), to the white bottle on the left…liquor bottle I painted white ($1). I'm so lovin' it! And the faux magnolia garland in the background, I adore because it's so real-looking. ($30 something-affiliate link below).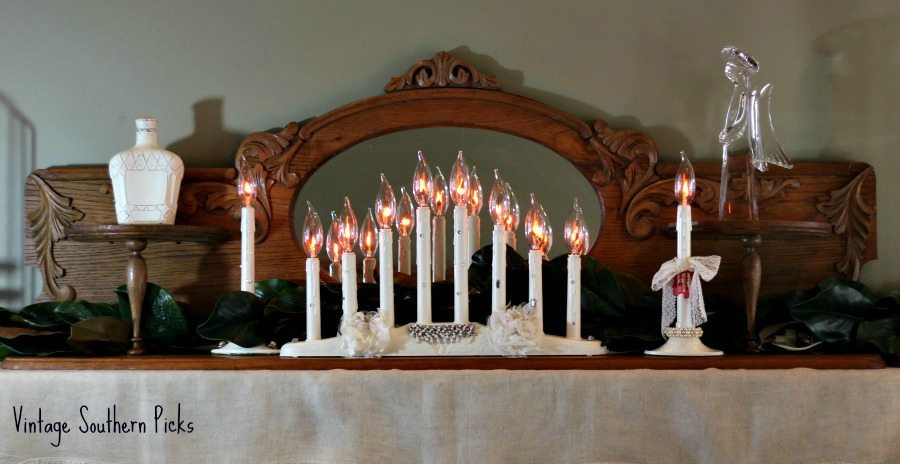 So go find you some of these vintage candolier sets and bling it up girls!
I've included suggested supplies below for your crafting convenience! If you purchase, I do earn a small commission to help support this blog, but you won't owe a penny more! Go here for my full disclosure policy.
Sharing with these link parties!
PLEASE PIN!
And now for more thrifty goodness!
Check out what my fellow upcyclers created below!


—
The following two tabs change content below.
As an experienced online seller for 19 years, I reveal some of my selling secrets. In my Vintage Finds posts, I show what I buy for resale, and what sells per month. Because many items are vintage and need TLC, I show the refurbish process to make them attractive for resale. I love picking, junking, thrifting, and shabby chic style.