Here's a project I've been thinking over for a few weeks…How I Repurposed a Toy Red Ladder in my Christmas Decor.
Just a bit of background~
I found it in a hazardous basement in an old house estate sale. Now why was it hazardous? It was a glorified crawl space really. And you know what a crawl space is like, right? Uneven floor, dirty, nowhere to hold onto. Husband hovering with his hands held out…don't fall, don't fall! For someone like me who CAREFULLY watches every step, I learned the hard way I can't be careless. Because I fell 3 times last year, breaking 3 bones, and basically spent 8 months in a chair. So I've learned to be careful.
But the basement was a treasure trove! A treasure trove of grimy, dusty sacks piled one on top of the other, thrown to the furthest corners of the crawl space…a place you go if you've got good knees, are willing to crawl, and get very dirty. Someone who's young….Ha! Not me! I had to "settle" for stepping blindly in the closer part of the dirty basement. And this is where I found the red ladder among many other interesting items which you can see in this post. 
I really wasn't sure what to do with it. I started to leave it there. I have to tell you my mind doesn't revolve around DIY projects much. My mind revolves around whether I'm likely to sell it in my Etsy shop or not. I have no idea what it goes with…surely not a game? It's definitely not meant to bear any weight, so what was it for?
If you know, please leave a comment.
How to Repurpose a Toy Red Ladder for Christmas
But as Christmas rolled around, I thought perhaps I could make an arrangement with it. But craftiness never oozes out of me…LOL. I thought about a front door arrangement, but it's too long to hang any other way but vertically, so this is what I came up with, and I kinda like it.
Hung in our entry, it's visible as you come through the front door. Using several finds from the grimy estate sale, and an old faux garland…Our "Wes" is checking out the softer garland I didn't use.
Here is my original DIY creation for the "C'mon Get Crafty Blog Hop." Keep reading to see how I made it. And be sure to check out the projects of the other crafty bloggers!
 Every month a group of bloggers are challenged by
C'mon Get Crafty
to create a new craft or project from their own stash of goodies! Check out some awesome creations you might be able to make from your own stash! #CraftRoomDestashChallenge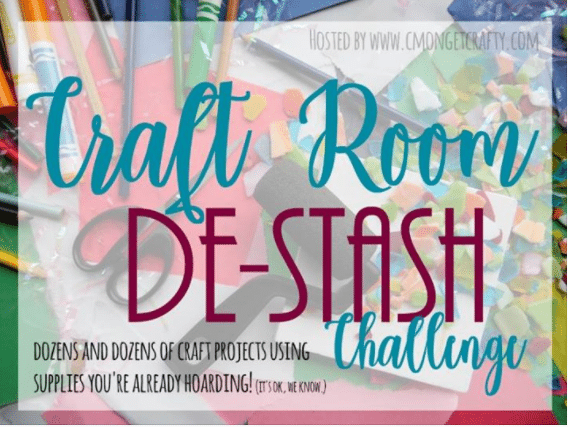 [clickToTweet tweet="What crafty creations could you make today from YOUR craft stash?! #CraftRoomDestashChallenge" quote="What crafty creations could you make today from YOUR craft stash?! #CraftRoomDestashChallenge"]
Starting off with these supplies, my inspiration came from the objects at the end of the arrows.
Red arrow: old plastic prisms came in a box of lamp parts I acquired back in the summer, and they hadn't sold. I tried Mod Podge with white glitter on 3 of them, but the Mod Podge left a cloudiness I didn't like.
Blue Arrow: I found 2 sacks of colorful pinwheel beads at the grimy estate sale and have already used  them in 2 projects.
Not everything in the photo was used.
The Process of Decorating the Ladder~
I wound the faux garland in and out some of the rungs and around the back. It was much too long for the ladder, but I didn't want to cut it in case I could use it for something else next year.  

Next the battery-operated string of LED lights 

Using fishing line, I strung it through the little holes in the vintage prisms,

followed by 8 pinwheel beads,

then either a clear acrylic icicle ornament or a gold icicle ornament.

Eight beads separated each ornament. How did I come up with 8? I don't know…a lucky guess because the icicle garland was exactly the right length for the ladder.

When I was ready to put the icicle garland onto the faux greenery, I used ordinary wire ornament hangers to fix the icicles and prisms on the branches while arranging the beaded garland where it would stay.

I added a few colorful ornaments for extra pizzazz, and there you have it!
I would love it if you'd pin! Thank you!
Now all we need is a Christmas tree! I'll have to tell you that story soon!
Sharing with these link parties….
If you click on and purchase one of these items, I will receive some small compensation, but at no additional cost to you! Thanks for helping to support this blog!
The following two tabs change content below.
As an experienced online seller for 19 years, I reveal some of my selling secrets. In my Vintage Finds posts, I show what I buy for resale, and what sells per month. Because many items are vintage and need TLC, I show the refurbish process to make them attractive for resale. I love picking, junking, thrifting, and shabby chic style.