This fabric covered, shabby chic sewing basket stole my heart when I saw it at an estate sale last year! As I recall, just about everything at that sale was out-of-reach-expensive, except the sewing basket. As it was only $2, I snapped it up, knowing it was in less than perfect condition…waayyy less than perfect if you know what I mean. But it was still cute as a button…you could even s-a-a-y-y….
I Found a Treasure!
Before I go any further…
It's time for the Monthly Craft Destash Challenge!
In my project, I'm merely scratching the surface of my huge doily stash. Keep reading to see what I did and why.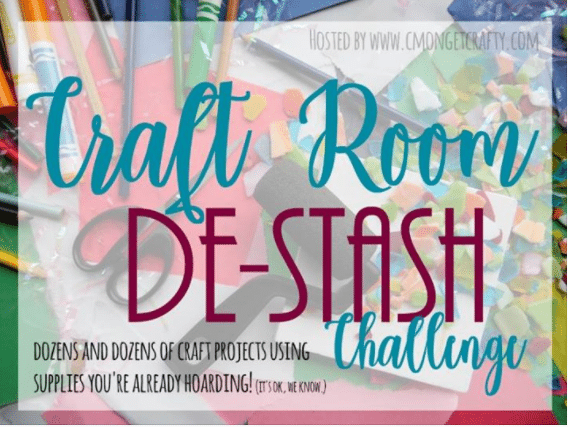 Every month a group of bloggers are challenged by
C'mon Get Crafty
to create a new craft or project from their own stash of goodies! Check out some awesome creations you might be able to make from your own stash! #CraftRoomDestashChallenge
[clickToTweet tweet="What crafty creations could you make today from YOUR craft stash?! #CraftRoomDestashChallenge" quote="What crafty creations could you make today from YOUR craft stash?! #CraftRoomDestashChallenge"]
Loading InLinkz ...
So This was a Treasure???
I decided to put it in my Vintage Southern Picks Etsy shop even though it had several issues, such as:
one of the string handles was worn in two;
the box was very faded,
it was all over soiled,
and it had an unsightly curling bottom rim problem, caused by exposure to moisture. (The box is cardboard.)
It had to go!
It Didn't Sell But…
My box obviously didn't sell, but it received many favorites, which encouraged me to attempt a makeover. I was a little leery of doing it because of the huge fail I had when trying to re-do another one I had a few years ago.
My main goal was to preserve what was here, not tear anything off. That was the big and bad last time. Tearing everything off literally tore the box apart, and like Humpty Dumpty, I couldn't figure out how to put it all back together, LOL.
Process of Restoration
I tackled the bottom. First I wet the rim just a bit until it was damp, but not dripping wet.
I cut 2 pieces of thick cardboard to fit tightly inside the rim in order to push it outward, hopefully allowing it to dry straight. Fingers crossed.
Now look at that! I was thrilled my idea worked!
Next the woven rope handles needed to be replaced. I could have bought them new, but they would look new, and I needed them to look old. I still had the parts to the failed sewing box project. Maybe those ties would work!
And they did. They looked like they were made for it. I had my hubby do this part because sometimes I'm usually all thumbs.
OK, admit it, I was afraid to screw it up.
The lid also needed regluing…an easy fix, but wow, this box had more problems than I realized.
And the biggest problem was what to do next to preserve the charm, yet hide the fade and soiling as much as possible.
How I Used the Craft Stash
This is where the craft stash comes in. I decided to cover it strategically with doilies, which hopefully would take attention away from the fade and soiling, yet not cover the charming fabric completely.
I raided my huge stash of doilies to come up with a small pile.
And this is the part that really makes me nervous…deciding on a design…where to start?
I placed doilies this way and that.
In exasperation, I told myself …"JUST DO IT!"
You don't need any fancy glue by the way. Ordinary Elmer's Glue works just fine.
Starting with the lid, I centered the doily on it. It's actually half a butterfly, but did you know this crochet pattern is known as a "pineapple" because all the parts of it are in the shape of one?
Evenly apply dots of glue.
I used vintage coasters and bits of crochet trim.
See those 3 green floral things to the right up above? If you're new here, you can read how I turned those boring clear glass candle holders into vases.
I was delighted to find the square crochet coasters at a yard sale years ago.
And here's the finished box! And since I have a ton of vintage buttons, I used a few on both sides as little accents.
All in all, I'm pretty pleased with how it turned out! Such an improvement over the original, don't you think?
But if I had it to do over….thinking I might dye those doilies so they don't look so white.
See that measuring tape? Even that's vintage! I remember my mama using it all the time, but we won't say…ahem…how old…
And if you're curious about that picture in the right background, there's a story to that too! I made the frame out of some curious found junk.
Do you like shabby chic? Have you restored any sewing boxes? I'd love to hear about it in the comments!
Be sure to drop by the other projects in the link up…you'll come away inspired!
Sharing with these Link Parties….
PLEASE PIN Y'ALL!
Other shabby chic posts you may enjoy….
The following two tabs change content below.
As an experienced online seller for 19 years, I reveal some of my selling secrets. In my Vintage Finds posts, I show what I buy for resale, and what sells per month. Because many items are vintage and need TLC, I show the refurbish process to make them attractive for resale. I love picking, junking, thrifting, and shabby chic style.