I love using napkin decoupage! You get a totally new look for tired glass candle holders using a simple napkin. I'm not stealing this idea from anyone. It's just the first time I've applied a patterned napkin to curved glass, and I'm excited about the final result! It was quite a challenge getting the look I wanted… allowing the design to shine, rather than slapping the napkin on any old way.  I started with a plain trio of candle holders similar to the goblet below.
Yes, I lost all my photos in a computer crash last year because somebody didn't do a backup!
How to Give New Life to Plain Glass Candle Holders
Before I go any further, I'm joining in the Monthly Craft Destash Challenge. That's where we bloggers design a project we create from our craft stashes. Read more about that below.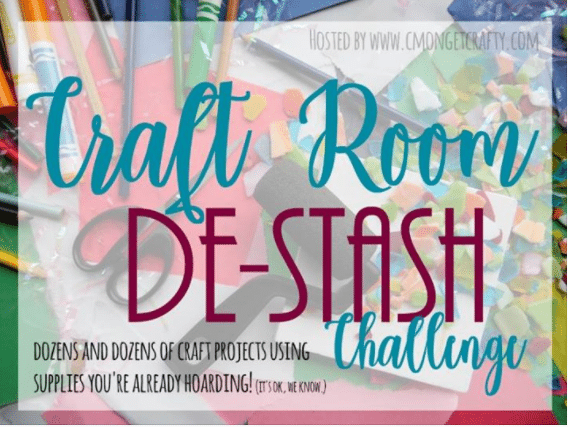 Every month a group of bloggers are challenged by
C'mon Get Crafty
to create a new craft or project from their own stash of goodies! Check out some awesome creations you might be able to make from your own stash! #CraftRoomDestashChallenge
[clickToTweet tweet="What crafty creations could you make today from YOUR craft stash?! #CraftRoomDestashChallenge" quote="What crafty creations could you make today from YOUR craft stash?! #CraftRoomDestashChallenge"]
My challenge was in using some of the paper napkins I have stashed away, but I'm hardly making a dent in my pile. How many napkins does it take to do a project like this? Keep reading below for the answer.
I used a set of napkins like this…
Now I love the subtle colors and the delicate shades of pink, but to tell you the truth, I wasn't totally crazy about these napkins at first. They grew on me.
Where to Find Pretty Napkins?
If you're like me, the grocery store was the first place I looked, but they had only blah and boring.
Big birthday napkins with bold colors shouting "I'm ONE!"
A package of 500 white napkins that are strictly to wipe your mouth.
Nothing interesting.
I've found them at yard and estate sales, but when you're looking for them, they won't be within 300 miles.
Even Amazon and local craft stores didn't have many choices I liked. I found the green ones on Amazon…the only choice I even remotely liked. This was one time Amazon didn't have absolutely everything.
The best I've found are napkin dealers on Etsy. You can buy single napkins, or 2-3 napkins for a reasonable price, like the ones below.
A big thank you to TamarasPaperNapkins and NicsPrettyPapers for their gorgeous napkins!
How Many Napkins to Use
How many napkins did it take to do 3 glass candle holders? Before I bought them, I visualized that 20 napkins might do it, but it took only one dinner size! I was flabbergasted! Of course cheapskate picker is going to make sure she uses every last tidbit of the napkin. Nothing goes to waste!
Completing the Look
As you can see, I'm using one as a vase, and as a final touch, I covered the rim of the candle holders with a bit of jute string. This is not just for decoration folks…it's effectively hiding my indecision as to how far to go over the rim with the napkin. Luckily string covers a wealth of mistakes!
And there's a reason why I'm using it as a vase, which you'll find out if you keep reading.
I'm really pleased with how these turned out! I worried they would look too blotchy and pieced together, but thankfully, it's not a problem.
Basic Procedure of Using Napkins for Decoupage
Unfortunately no pictures of the process remain due to my computer crash.
Most decorative napkins are 3-ply. Separate the 2 white back layers until you're down to the last patterned layer. If you don't have fingernails for this job, you're out of luck.
Depending on what you're decoupaging, you may decide to use the whole sheet at once, or in my case, pick parts of the napkin you want to use.
The creases in the napkin won't be a problem, but if desired, you can iron them on a low setting. (no steam). Yes, you can iron paper!
Tear napkin into pieces you want to use. You can tear them dry or wet. I've found it's much easier to tear if you apply a wet bead with an eye dropper or paint brush along the border of the piece you want to tear off.
Working in sections, apply Mod Podge to the candle holder (or whatever you're using), not the napkin.
I find it helpful to cover the newly decoupaged parts with clear plastic wrap. You can then use your finger to very gently dab wrinkles without touching the napkin itself, which easily tears.
Continue covering your vessel with the napkin pieces until all is covered.
Apply a final coat of Mod Podge over the whole object to seal it.
What I Learned from the Process
As said, these were harder and more tedious to do because I wanted them to look like the napkin, with the flower clusters scattered. Using a napkin with a uniform pattern would have been so much easier and quicker.
I saw napkin decoupage used years ago on someone's blog, and fell in love with the look. She stressed painting the inside of the vessel first, and I'm not sure why. I did it, but wouldn't do so again.
If you're using them for candle holders, you can barely see the glow of the candle through the paint layer, and the decoupage. Of course, if you're using these for vases, it wouldn't matter.
Creating a Centerpiece with Candle Holders
You can see how I'm using them below in a shabby chic Easter centerpiece. Nobody taught me how to arrange a centerpiece. Anything goes if you like it! I used 10 thrifted and estate sale finds to style an old mirror tray.
Just a bit of pink Easter basket grass on top of the tray to conceal the mirror.
A metal cage to the left is filled with white tulle and mini lights.
A bird's nest with eggs imparts a hint of Spring, capped with a faux pink hydrangea bloom.
Finishing out the look are bits of an arrangement from last year…bunnies, eggs, and a bunny napkin ring.
Finds from this year I liked…hen and chick treat baskets, and a large ceramic Easter bunny
My 3 candle holders. Use whatever you have on hand to create a centerpiece that pleases you.
You can see below, I didn't spend much money on this:
1-Large ceramic rabbit-$2.50
2-3 candle holders-free
3-Faux hydrangea bloom-$3
4-Small cage-$2
5-white tulle-free
6-Easter grass-50¢
7-Vintage mirror tray-$2
8-Bird's nest with eggs-free
9-Small hen and chick treat baskets-25¢ each
10-Bunny napkin ring-25¢
Final Cost-$10.50
I'm really enjoying the centerpiece and my napkin candle holders! They're very versatile and can be used in any setting.
I had so much fun with this, I know I'm going to become a napkin decoupage fiend queen, so look out!
Have you done any napkin decoupage projects? Have tips to share?
Sharing with these link parties…
And now be sure to visit my blogging buddies below to see their destash projects for the month!
Loading InLinkz ...
The following two tabs change content below.
As an experienced online seller for 19 years, I reveal some of my selling secrets. In my Vintage Finds posts, I show what I buy for resale, and what sells per month. Because many items are vintage and need TLC, I show the refurbish process to make them attractive for resale. I love picking, junking, thrifting, and shabby chic style.