The 6 tips below are those I've found helpful for getting seen on Etsy, whether you're a newb or have experience under your belt. Now we're just skimming the surface with these 6 tips to help you start thinking about how to improve as you move forward.
Top Tips for Getting Seen on Etsy
List Often
If you're not working your shop frequently, you tend to fall in search.
We're downsizing and preparing for a move to a smaller house, so I've been very busy:
sorting through our stuff
getting ready for an estate sale
packing and moving stuff off furniture for floors to be refinished
cleaning up dust from the floor job
preparing for carpet replacement
painting a small chest to use in a Powder Room update (which you'll hear about soon)
boxing up stuff
struggling to find a place to put stuff
wishing I didn't have so much stuff
And it's driving me crazy because my house looks like this!
Is it any wonder I've had little time to list the last couple of weeks? It definitely shows in my 2 shops. Less than 20 sales for the month is the result, but June is one of the slower months of the year anyway.
Take Great Photos
Top Notch Photos are Very Important
Here are 2 early photos of mine that are much too dark…
All those shadows on the front and sides aren't helping these photos at all!
[click_to_tweet tweet="Anyone selling online should have top notch photos showing their items in the best possible light!" quote="Anyone selling online should have top notch photos showing their items in the best possible light!" theme="style3″]
Set up your treasures with light on the front and sides, and preferably with back lighting, so the items stand out.
Here are 2 recent photos I'm much more pleased with…
Do you see how no shadows makes these photos pop?
Even if there are 10 other items just like yours for sale on Etsy, the ones with good photos will likely go first, especially if the price is comparable.
And you know what? Both these items sold, and both had plenty of competition!
I've found that a seamless white background works best for me, and after many years of frustration, I finally splurged on a professional light/background set-up. During all the downsizing, I had to break down my gear, and I sure miss it. I'll have to show it to you later. It's not perfect, and there's a learning curve, but I'm basically pleased.
Yet, when photos turn out "less than," PicMonkey to the rescue! It's an easy photo editing site, no longer free, but a good deal at $48/annually. There are free ones as well.
Props? Props are fun, but too many, and there can be confusion about what you're selling. I tend keep it very simple…no more than a stack of books or a sprig of faux flowers. Whether you use them or not is totally up to you, but they can sometimes make your photos look a bit more interesting.
Keep a Full Shop
Oh, this is a tricky one!
What's a full shop? Ha! There's no easy answer to that one. Some say 50 items; some say 100; some say more. There's really no magic number, but it stands to reason that the more you have, the more you're likely to attract an interested buyer.
Tags
If you've not plunged into Etsy yet,
the word "tags," won't have much meaning, but think of them as keywords, or as words or phrases a buyer might use to search for an item. Each item listed for sale can have up to 13 tags, used to describe something in so many words and characters. The more appropriate they are, the likelier you are to be found on Etsy.
Example: 
Let's say you're listing a vintage suitcase like the one below.
Your tags could be "Vintage Suitcase, blue suitcase, hard side case, blue luggage, hard side luggage, blue travel case, luggage bag, large suitcase," etc.
Titles
Tags and titles should match pretty closely. Don't use "retro suitcase" if you don't have that in a tag, or the term "old suitcase" if it's not in a tag. The most important keywords in the title need to be first, but don't repeat a keyword too many times in the title (known as keyword stuffing).
Example:
Don't say: Vintage Suitcase | Blue Suitcase | Hard Side Suitcase | Old Suitcase | Retro Suitcase | Blue Luggage | Vintage Luggage | Old Luggage | Hard Side Luggage
Instead Say: Vintage Suitcase Blue Hard Side | Retro Suitcase | Old Luggage | Travel Bag | Overnight Case
Teams
Teams is a community feature on Etsy where you connect with other members. You can find teams on SEO, Pinterest, How to Sell, How to List, How to Promote, How to Grow, How to Use Calculated Shipping, Teams for Wanelo, Teams for Facebook, Teams for Instagram, Teams on Artisan Jewelry, Teams for Quilters, Teams for Vintage Lovers, Teams for Antique Lovers, Teams for Bloggers, even Teams for People who stay up all night, and many, many more!
Teams are something you can ask to join and they often have rules to follow, which are not hard to do.
Once you join, you can shadow a discussion, read, learn, get tips, promote for each other, favorite each other's items, and many more. Join a team and find out how it works.
What I Like About Teams:
Since my niche are the vintage and antique markets, I've joined several of those teams. As members, we can spend time favoriting each other's items, the theory of which supposedly gets you more exposure in Etsy land. Now I say "supposedly" because some say it doesn't help. Others swear by it. You'll have to make up your own mind.
What I really like are the group Pinterest boards. The more places you can pin your item, the more you will be seen.
How to Find Teams:
Go to your shop's Home Page or the Etsy Home page
Scroll all the way to the bottom of the page
There are 4 columns of links at the bottom
Go to the 2nd one: "Sell"
"Teams" is the middle link
Once there, you can put in a query for your niche or general topics into the search bar.
Happy Searching!
I hope these 6 tips have helped you learn a bit on how to get seen on Etsy, if you decide to go that route. Of course, there are other great online sites to get started on such as Ebay, Poshmark, Ruby Lane, Amazon, and many others.
PIN THIS PLEASE!
You may also enjoy these posts!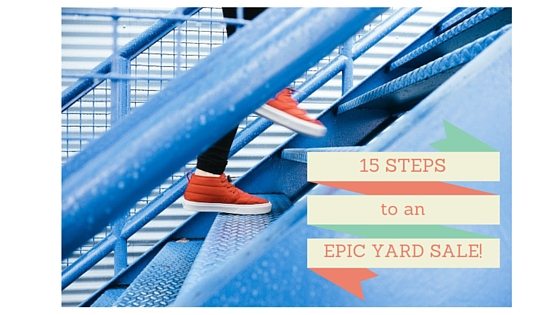 The following two tabs change content below.
As an experienced online seller for 19 years, I reveal some of my selling secrets. In my Vintage Finds posts, I show what I buy for resale, and what sells per month. Because many items are vintage and need TLC, I show the refurbish process to make them attractive for resale. I love picking, junking, thrifting, and shabby chic style.