While I love shabby chic and admire upcycled lampshades dripping with pearls, studded with tattered fabric roses, and covered in doilies and lace, I know it won't fly with hubby. (Just check Pinterest for lacy lampshades of all types.) In doing the next needed restoration, I wanted to try out a doily lampshade makeover – husband-approved. I certainly had no inclination to buy a new shade.
I also love lampshades stripped of all fabric, decorated around the edges and ribs with bits and bobs, but let's face it, they're impractical for real home use.
I'm the kind of gal that has a little of the romantic frou-frou gene, a little of the minimalist gene, a little of the rustic primitive gene, and a lot of the traditionalist gene. And I'm married to a guy who thrives on tradition…not an ounce of frou-frou lives in his body.
Enter the tattered lampshade…..how to get "the look" without looking like you're getting the look?
If you remember, the last lampshade got a makeover using men's ties….
Because this is going in our bedroom, where hubby and I will see it every night, I thought, "why not place doilies on the inside of the shade?" Would this work?
The Doily Lampshade Makeover
As you can see in the photo, only half the inner lining is shredded. I decided to tear the rest of it off for a more uniform look.
Selecting only 2 doilies out of my stash, I centered the doily on the inside of the shade right over the ribs, which are now exposed.
One of the doilies even had a minor stain, but doesn't show.
Next I glued them on, using regular Elmer's glue.
Dab the glue onto the most solid areas of the doily, then press onto shade.
I did not put the glue directly on the shade, and so far, it is adhering well.
Here is the final effect. I love it! Looking like a regular lampshade on the outside (when the lamp is off), it will satisfy the most non-frou-frou of hubbies, but delight the most shabby chic-loving, romantic, girly girls. It's neutral and I don't have to worry about colors clashing.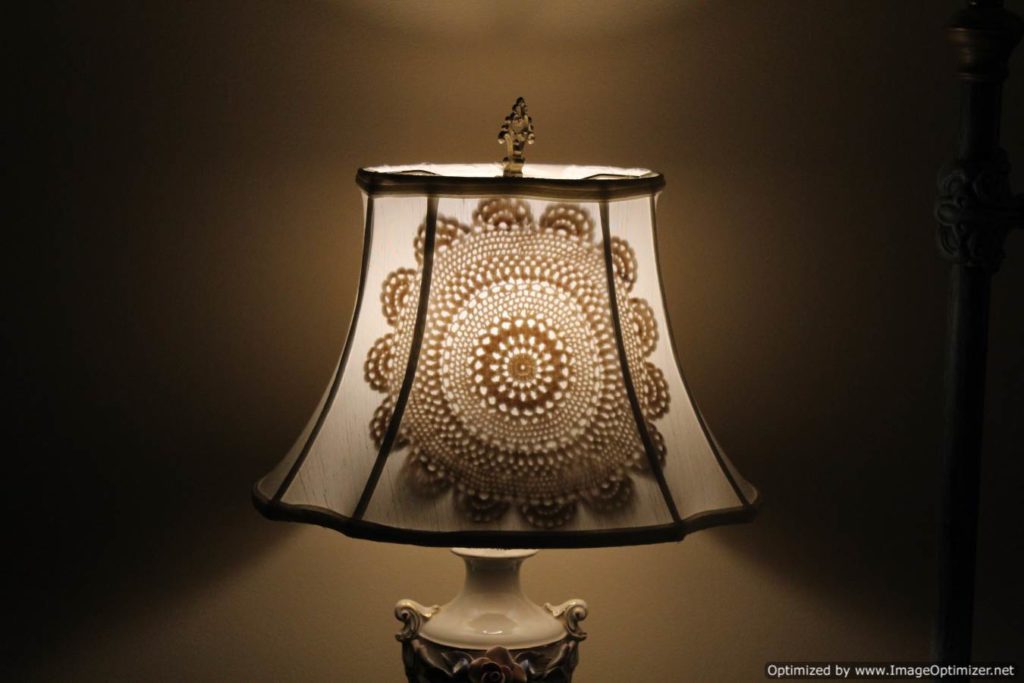 I decided to use only two, but you could use as many doilies as you want.
This is a quick 30-minute project, depending entirely on how big your lampshade is and how many doilies you want to use.
Please Pin or share!
The following two tabs change content below.
As an experienced online seller for 19 years, I reveal some of my selling secrets. In my Vintage Finds posts, I show what I buy for resale, and what sells per month. Because many items are vintage and need TLC, I show the refurbish process to make them attractive for resale. I love picking, junking, thrifting, and shabby chic style.