A daring blue table? Hang with me and I'll tell you why. I bought this little side table for $5 about a year ago at a yard sale. Once I got out of the booth business, I didn't plan on buying more furniture, but couldn't resist such a good deal. I knew I could resell it at our church's annual flea market.
Here is the before picture. It looks like only the top needs painting, but the paint on the bottom was slapped on, and it needed another coat. My perfectionist self wasn't happy to leave as is.
I decided on Annie Sloan's Duck Egg Blue chalk paint for the top. I have a lot of that at the moment. My husband hates blue, so out of deference to his preferences, I haven't used much of it. His previous wife loved blue, decorated with blue furniture, and painted with blue. Understandably, he's been burned out on blue ever since. Feeling a little daring, I used it anyway since I'm not planning on keeping the table. Here is the finished result! I like its soft soothing tones.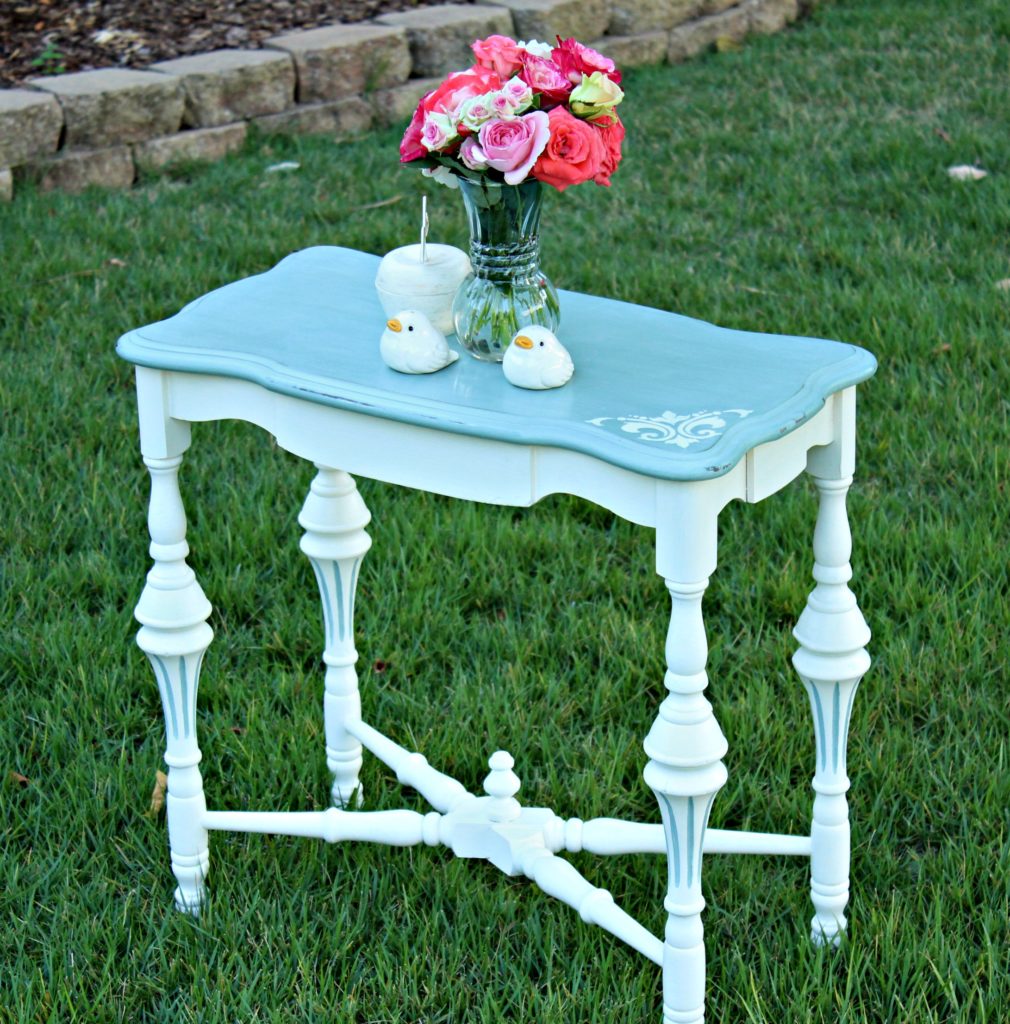 I forgot to take pictures of my two previous attempts to decorate the top using a real doily as the stencil. Unfortunately, it was a nondescript hot mess…too much bleeding and not enough definition.
I finally settled on using a stencil I got a while ago from Michael's. I really liked the application of it in one corner. Sanding over the image a little, I waxed with Annie Sloan's clear wax. A little distressing of the edges finished the project.
My inspiration for this came from Keri at Repurposing Junkie who shows how she utterly transforms these curbside finds.
You can also see the carryover of blue in the legs.
As far as my husband goes, the daring blue table was a success.
Gary: "I really like that little table."
Me: "Oh yeah? Thought you didn't like blue. It's blue."
Gary: "Well, I like that blue."
Me: (only thinking to myself) Well, you didn't like it before.
Who knew?
I'll tell about that "before" in another post.
Don't Forget to pin!
The following two tabs change content below.
As an experienced online seller for 19 years, I reveal some of my selling secrets. In my Vintage Finds posts, I show what I buy for resale, and what sells per month. Because many items are vintage and need TLC, I show the refurbish process to make them attractive for resale. I love picking, junking, thrifting, and shabby chic style.