Would you like to know about the vintage pick that became a DIY headache? I'm depending on YOU to tell me if it's a happy ending! Final reveal at the end!
A year ago I attended an estate sale in a historic part of town. One of my most memorable finds was this….
…a vintage gold Elgin American Beauty compact carry-all dating from the 50's-60's. Bought for $5. Sold in my Etsy shop for $125! This was such a pretty piece in wonderful condition! (I had to get the estate sale person to show me how to open it.)
 

Finding the Homemade Tool Chest
But the real find of the day….my absolute favorite….was this! It looks rough, I know. A homemade tool chest & dirty. At the sale it was sitting on the floor & loaded with screws, bolts, and the like. Isn't it cute though? I fell in LOVE!
It had great bones, and when I saw that the top lifted up, I was sold. Paid $5 for the chest & all contents.
And the inside of the drawers was very primitive.
 

Transforming the Homemade Tool Chest
It sat in the basement for a year.
When I finally got around to working on it, I removed knobs and gave it a good sanding.
I couldn't wait to put on the first coat of paint! Annie Sloan "Old White."
To my chagrin & horror, the next day it was PINK! Oh well, "it just needs another coat of paint," I told myself.
More paint applied. Pink again the next day.
More paint….still pink.
More paint…pink.
More paint….pink.
MORE….p..p..p..p..pink!
Okay. "What we need is some stain-blocker paint," I told myself confidently. Ah! Found some oil-based in the basement. How old was it???Who knows! Who cares? Slapped that on….WHAT??? STILL PINK!!!???
Well, it just needs another coat of Annie Sloan! Putting any kind of paint on top of oil-based….not a good idea. I knew better, but I was getting slightly desperate.
The results? P-I-N-K!!!
Resignedly, I dragged to Home Depot. Dreading buying a whole gallon of stain blocker paint, I was delighted to find a quart of Zinsser Gray Stain-Blocker Oops paint. "Great! We got it licked now!"
Do I even have to tell you??? P…I…N…K.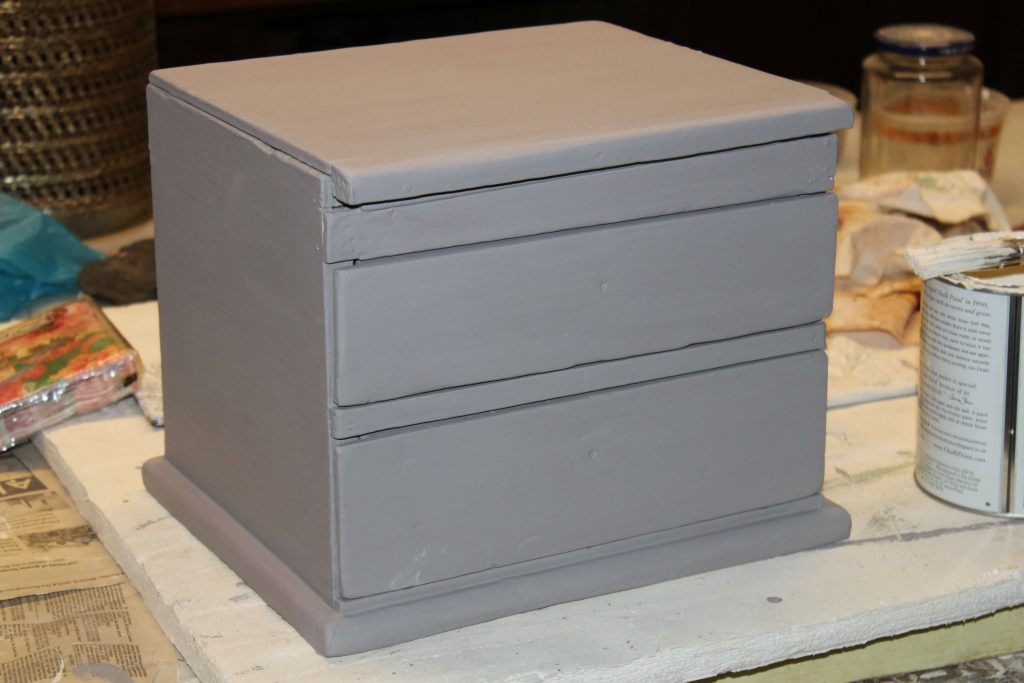 So how come this works on all the other dark stained wooden items I've got???
This calls for another coat of Annie Sloan….Nope…..Pink.
I was beginning to despair. I was beginning to wish I'd never laid eyes on this [email protected]#$%&* chest. Fickle me. I had fallen out of love.
I considered covering everything with decoupage. Nope. Didn't want to do that either.
I considered painting it pink.
I considered painting it black.
I considered chunking it.
no, No, NO! I will NOT give up!
Okay. When all else fails, ask Google. Google suggests shellac. Noooooo! I don't want to strip this down to bare wood!!!!! It's got at least 10 coats of paint on it! But I found a suggestion for shellac that works OVER paint. And we just happened to have some!
Slap that stuff on & wait for the miracle of no-bleed-through. Right? Uh…not exactly. I used only 1 coat. Should have used 2, but it WAS much better.
So I felt I could FINALLY progress with this project, instead of endlessly slapping paint on it day after day. I was making a career out of painting this and getting nowhere!
I planned to do some decoupage all along. Decisions, decisions about what kind and the design.
The Transforming Plan:
Napkin decoupage to the drawer fronts
Paper decoupage to drawer sides
Paper decoupage to drawer bottoms
New Knob for top
New Knobs on drawers
Stencil of some kind
Bottom napkin won out for drawer fronts~
Found paper that looked like old letters~just sand the corners back a bit so it looks worn. Apply "Walnut Ink Antiquing Solution" to give it some age~
Can't make a choice, so mix n match papers on the insides of drawers~
I found a French stencil I liked on Amazon, and applied it to the top.
Also stenciled under the top lid.
And made a trip to Hobby Lobby for knobs. Found 4 other knobs in my stash to use for legs. I can't decide whether I like it with legs or not. What do you think?
Final result!!
And here's the back….
Those 4 holes were there originally. The only thing I can think of is to cover these with buttons. Do y'all have any other ideas?
Is the pink gone? NO! You can see it up on the top edges in this photo. I can also see it just under the paint in various places. Uh oh, I might have to take up that career again. But at this point in time, I probably won't do anything. Maybe later.
What do you think of the DIY Headache????
Sharing with these link parties here~