With help from 2 blogging friends, I'm showing you 5 clever ways to display vintage hankies. On Ebay a few years ago, I sold about 30+ lovely vintage hankies to a lady, who was a difficult buyer for reasons I can't remember now. To my horror, she revealed how she intended using them. I shuddered. If you're still reading, I will reveal the use further down. In any case, it was the last time I ever sold these pretties in a lot.
Vintage hankies are lovely works of art to be treasured, handed down, and enjoyed. But don't just fold and put away in a drawer, or do what my buyer did. Display them! Use them, but please…not to blow your nose!!
Here are 5 Clever Ways to Display Vintage Hankies!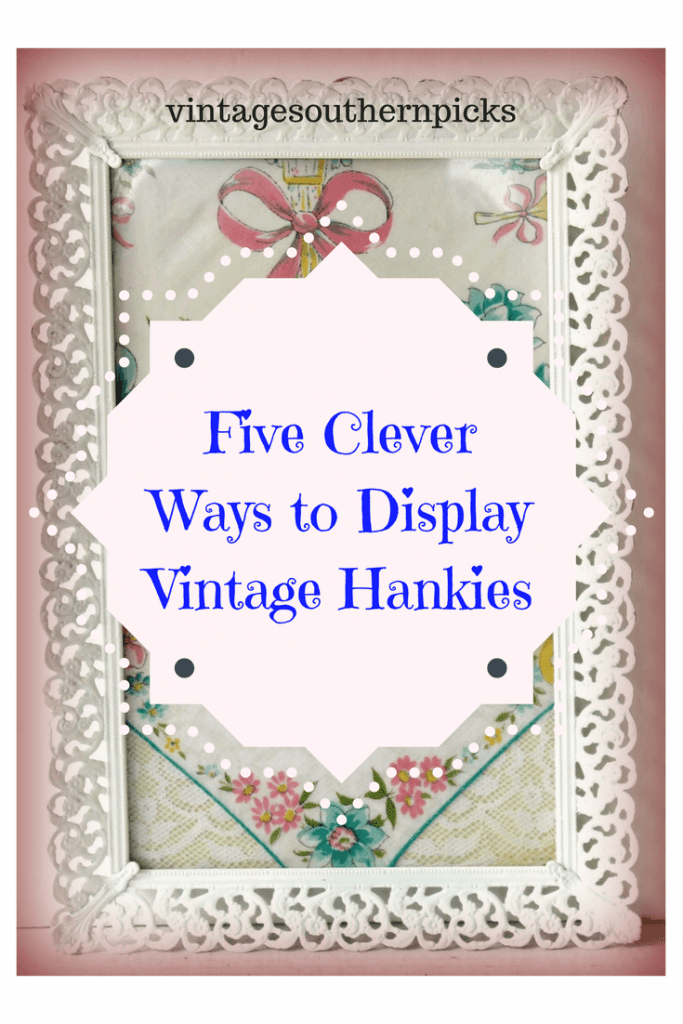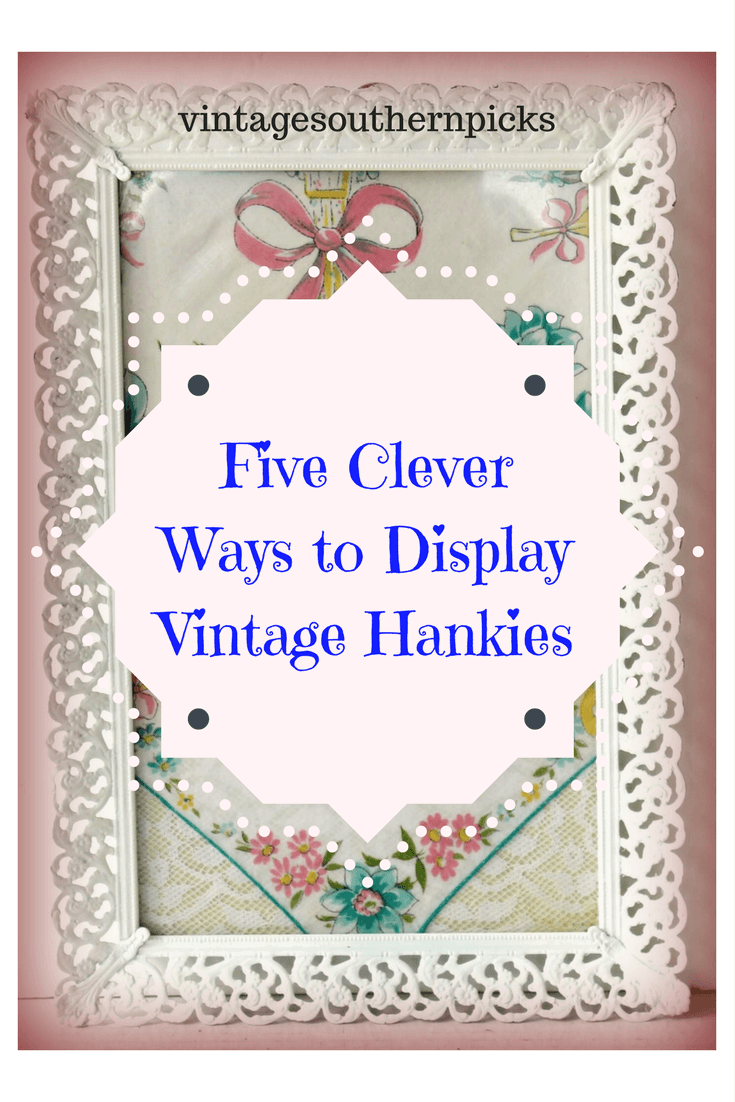 Lois Behr Christensen from Walking on Sunshine, shows us how a handkerchief tenderly made by her grandmother, was treasured as part of her daughter's bridal bouquet!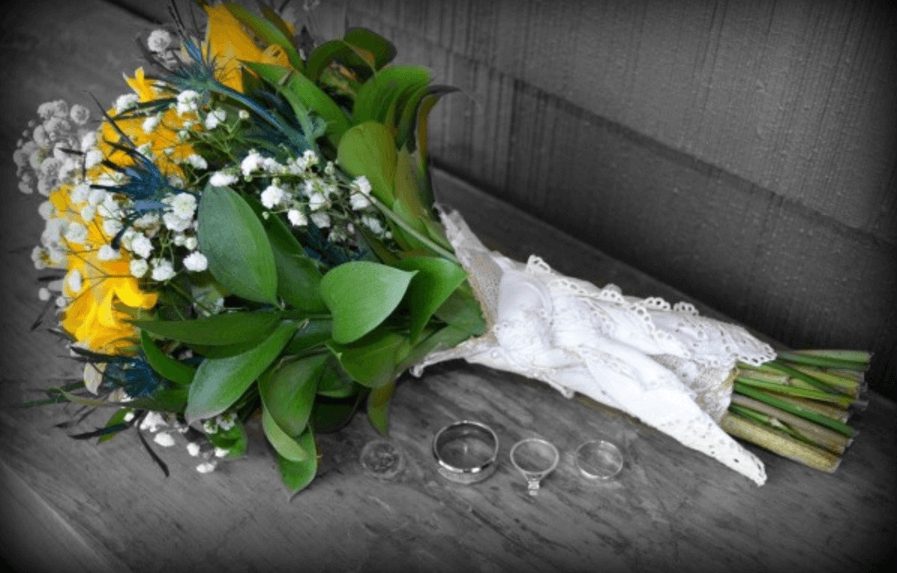 Jennifer Zuri of Town and Country Living shows us a lovely hankie banner! Doesn't this look sweet above her china cabinet? Check out her blog for other attractive displays!
Use hankies as wearable art! I got this pretty idea from Jenny Brown at Shareably. My favorite ideas were these lovely bows and rosettes, which can be worn or displayed on packages, wreaths, and frames. And I love the fact that no gluing is involved, so you don't ruin the hankies! (Easy tutorial on the web site.)
Can you tell the bow in the middle was my first one?? It is a bit lopsided! I promise you it is an easy tutorial though…if I can do it, anybody can. I love to wear unusual boho things like this because it gives me a bit of a distinctive look!
Lastly…I am displaying a vintage hankie in an old metal frame. I found the frame on the floor of a dark dank wooden closet at the Tiny Estate Sale.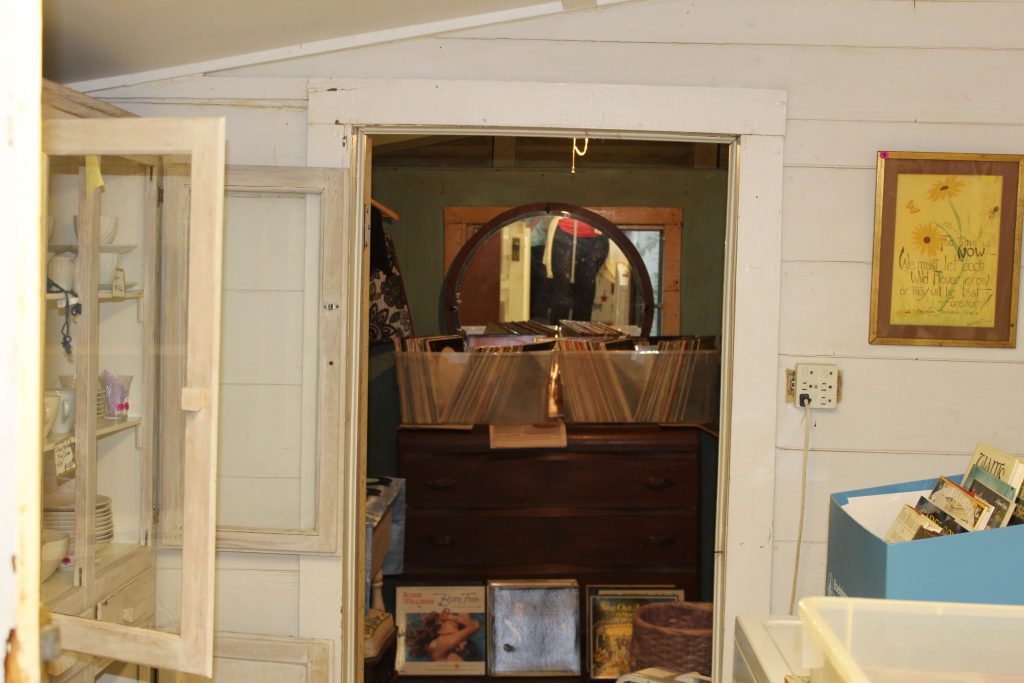 Wish I had taken a before photo of how truly icky it was, but it was only $1, so I bought it, brushed off as much rust as I could, painted the metal parts of the frame with Annie Sloan Old White, and began working on the glass. My vision was to leave some of the silvering for a streaky look like this….
I soaked the glass in a vinegar bath for several hours. Then it is easy to remove the silvering. From what I've read, oven cleaner will work, but I haven't tested the method.
Turned out I hated the streaky look. It looked dirty to me, and it sure wasn't going to do a beautiful vintage hankie any favors! So I decided to clean the rest of the old silvering off to reveal a clean glass slate.
Figuring out how to display the vintage hankie in the frame was the next hurdle. Wish I'd done a bit more investigating on Pinterest and youtube before I started because this took a bit of trial and error to get right. It's still not perfect, but I'm happy with the end result.
Trial and Error Method of Displaying a Vintage Hankie in a Glass Frame:
I used the original cardboard backing as a guide to make a new backing, matching the dimensions of the frame.
I painted the cardboard white because tiny parts of it will show through.
I mod-podged a piece of crochet to the bottom half of the cardboard. Mistake…it was too thick and the finished piece wouldn't go into the frame.
I mod-podged the hankie onto the cardboard and let it dry. Mistake! Shouldn't have glued it & shouldn't have let it dry. When all put together, the hankie hadn't adhered well, and there were BIG wrinkles. 
Tried to pull it off after it was dry. Mistake! The hankie tore in several places. Should have wet it first, but didn't want to ruin the painted cardboard, but I had to redo this anyway. 
THEN I looked at some youtube videos to figure out how to do this properly!
I cut another piece of cardboard and painted it.
I cut a piece of wide flat lace and glued it.
I put a few stitches with needle and thread into the 2 side points of the hankie and the top, sewing directly into the cardboard. A large needle makes this easier. Voila! Much better than mod-podging. I used the same hankie, hiding the holes underneath the cardboard.
Like I said, it isn't perfect, but I'm pleased now with the result.
And as for what the lady did with all the hankies I sold her?? Used them for dust rags! Can you imagine?? Horrors! My beautiful vintage hankies!
The following two tabs change content below.
As an experienced online seller for 19 years, I reveal some of my selling secrets. In my Vintage Finds posts, I show what I buy for resale, and what sells per month. Because many items are vintage and need TLC, I show the refurbish process to make them attractive for resale. I love picking, junking, thrifting, and shabby chic style.