Potential new sellers, stymied by fears of shipping, can't move forward with their goals. I remember feeling that way myself! Here I show you 14 Easy Tips to Help You Conquer Shipping Fears. I use the services of the USPS (US Postal Service) because they are consistently cheaper than other carriers like Fed Ex and UPS. Another service on the scene for shipping packages is Stamps.com, affiliated with USPS.
In this post, you'll find lots of basic information, but the best way to learn about shipping is to start with the basics.
What to Know about Shipping Before You Start Selling
You don't have to go to the Post Office to ship your packages! Who wants to stand in line??? I sure don't! You can pay for postage and print labels…all from home, as long as you have a printer.
Exception…When You Might Want to Drop off Packages Yourself:
To Avoid mail theft
Mail Theft is a growing problem, especially around the holidays. Thieves steal, not caring whether the item is desirable or not. It's a big concern for folks living in apartments, garden homes or townhouse communities where porches and front doors are clearly visible from the street. Authorities recommend shipping to and from work, or soliciting a trusted neighbor to help you.
My method that works so far: If I have larger boxes, I leave a note for the carrier inside the mailbox with the flag up. Because my front door is located far enough away, I can hide them a bit behind a pillar and potted plants. The carrier comes up the driveway eliminating the need to schedule a pickup which has to be done the day before. So far, no problems, but I worry about it. I used to leave packages ready at the mailbox, but no more.
How Shipping Rates are Determined
All shipping rates are determined by weight of item in the box with packing materials, dimensions of box, and destination zip code.
Invest in a Postal Scale to weigh packages. They are inexpensive.
At the end of the post, you will find suggestions to get you started with basic shipping supplies. If you purchase, I will earn a small commission to help support this blog, but it won't cost you a penny more. See my Disclosure policy here.
A kitchen or bathroom scale is not adequate. I admit I started with a kitchen scale, but quickly found it was not weighing items accurately. Weights came out higher than they actually were.
I've been asked how to decide which shipping rate to use. This is where a postal scale is handy. On any selling site, you must know what the item weighs, and box dimensions. Shipping rates are always determined by weight and distance.
Essentials every new seller needs:
We assume you already have computer, printer, and copy paper. The essentials below are dependent on what you plan to sell.
Postal scale
Boxes or mailers
Packing Tape
Bubble wrap
Ruler or Sewing Measure
Packing
You can get plenty of shipping supplies for free if you know where to look.
I only buy bubble wrap, packing tape, and padded mailers.
You should wrap or pad most everything even if it's not breakable.
I wrap almost everything in bubble wrap. I shipped 3 suitcases to a buyer years ago. No padding in the box whatsoever. The oldest, most desirable suitcase arrived dented. Now I use styrofoam sheets packed around suitcases as protection.
Padded bubble wrap mailers are NOT enough protection for most things, and non-padded envelopes are practically no protection.
Starting out, I sold vintage Barbie stuff. I used a non-padded envelope to ship an outfit with the Barbie high-heel shoes. Because I was ignorant and trying to save money, I used no packing material. The shoes weren't breakable, but they arrived crushed.
Being professional is important for your brand and reputation.
A no-brainer, right? I mention it because of buyer turn-offs below regarding packages they have received.
 PACKAGE TURN-OFFS:
I promise…I'm not making these up!
Items wrapped in diapers
Packages wrapped with plastic grocery bags or dry cleaner bags.
Used sandwich bags to wrap an item
Boxes with roach carcasses in the bottom, and even a live roach crawling out of one.
Buyers complaining of a dented box (Not much you can do about that beforehand!)
Shipping in a diaper box or Raisin Bran box doesn't look very professional
Shipping in a Tampon Box
Knowing how to pack is a learned skill, which takes practice. It's not the Post Office's fault if your item arrives broken. Rule of Thumb: Pack it to withstand being thrown into the back of an empty postal truck from 4 feet away, or smushed by the weight of heavier boxes. Forget writing Fragile on the box.
I shipped a ceramic mug a couple of years ago. The box was way too small for it, but I didn't have the right size at the time, so I took a chance. Bad move. I heard the mail carrier throw it into the back of the empty truck and I cringed. Yes it was broken. Refunded the buyer's money. It doesn't pay to take chances.
Insurance
To insure or not: It is recommended you insure expensive, valuable items or electronic devices.
Options: Insurance is already built into Priority Mail, Priority Mail Express, and Priority Mail International. It doesn't come with other services like First Class Mail, Parcel Select Ground, and others. You can buy it through USPS, or 3rd parties like Shipsurance or U-Pic, which usually offer broader coverage and less hassle.
I seldom buy insurance because I don't deal in electronics or very expensive items.
Types of Boxes
Difference between Flat Rate boxes and regular boxes.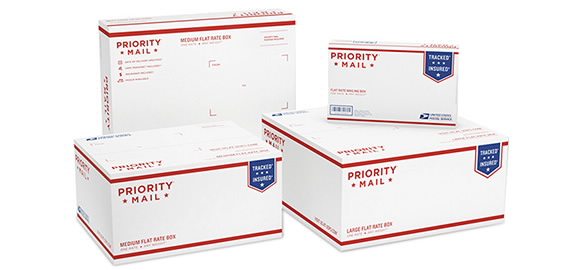 Flat rate boxes come in several sizes and are good for those who sell certain size items and know what size box works for them. Flat rate is only for Priority Mail. Some boxes carry a Priority Mail Express option as well. More information about using flat rate boxes and limitations here.
When I started selling, I had no idea what a flat rate box was. So what are the differences? Other than looking different, here are the pros and cons.
PROS:
Ships heavy items up to 70 lbs for the rate set as long as it fits in the box
Boxes are free and delivered directly to your door
You have the advantage of a new, unused box to ship your items
"If it fits, it ships" for the rate set for the size box
Insurance is automatically provided up to $50 for Domestic/$100 for International
CONS
"If it fits, it ships." Since I sell vintage pieces of all shapes and sizes, most of the time my stuff doesn't fit. Even the largest size box doesn't hold much.
You can only use their boxes if you're shipping Flat Rate. You can't use them if you just happen to need a box that size, but plan to ship another way.
You can often ship cheaper without using Flat Rate
Packing Supplies
Invest in good quality packing supplies.
Don't Buy Cheap, Off-Brand Packing Tape! (like the one below.) Buy good quality to begin with. I recommend 3-M or Scotch. I bought a case of cheap tape, which lasted several years…ugh. Pretty pathetic quality…I used twice as much trying to get it to stick. Do dust your box before applying tape. No tape sticks to a dusty box no matter how good it is.
Use the lightest weight, most effective packing supplies you can. What are the lightest weight packing supplies? I'm glad you asked because I conducted my own study!
I measured 5 oz of 6 different packing supplies comparing their volume for usability:
Bubble wrap
Styrofoam Peanuts
Foam Rubber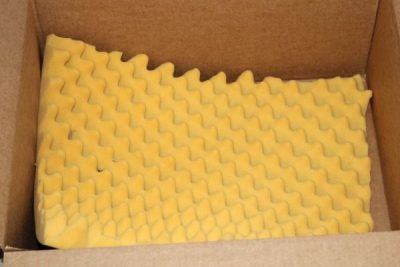 Air pillows
Newspaper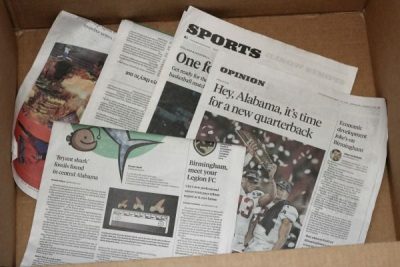 Brown Butcher Paper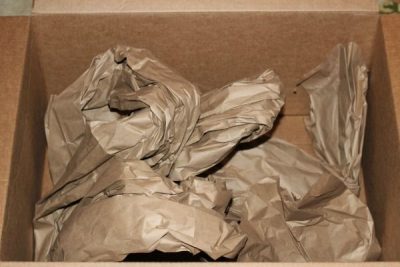 Conclusion: No surprise that air pillows came in #1 for lightest weight packing supply, and newspapers  last. Newspapers and brown butcher paper provide almost zero protection.
Common Postal Services
Familiarize yourself with the various postal services. Each have their requirements and limitations.
Domestic:
First Class
Priority Mail
Priority Mail Express
Media Mail
Parcel Select Ground
International shipments:
First Class Mail International
Priority Mail International
Are you overwhelmed yet? In overload? Don't worry. As you start selling, this will become second nature. I didn't learn everything in the beginning. I learned it here…in The School of Hard Knocks!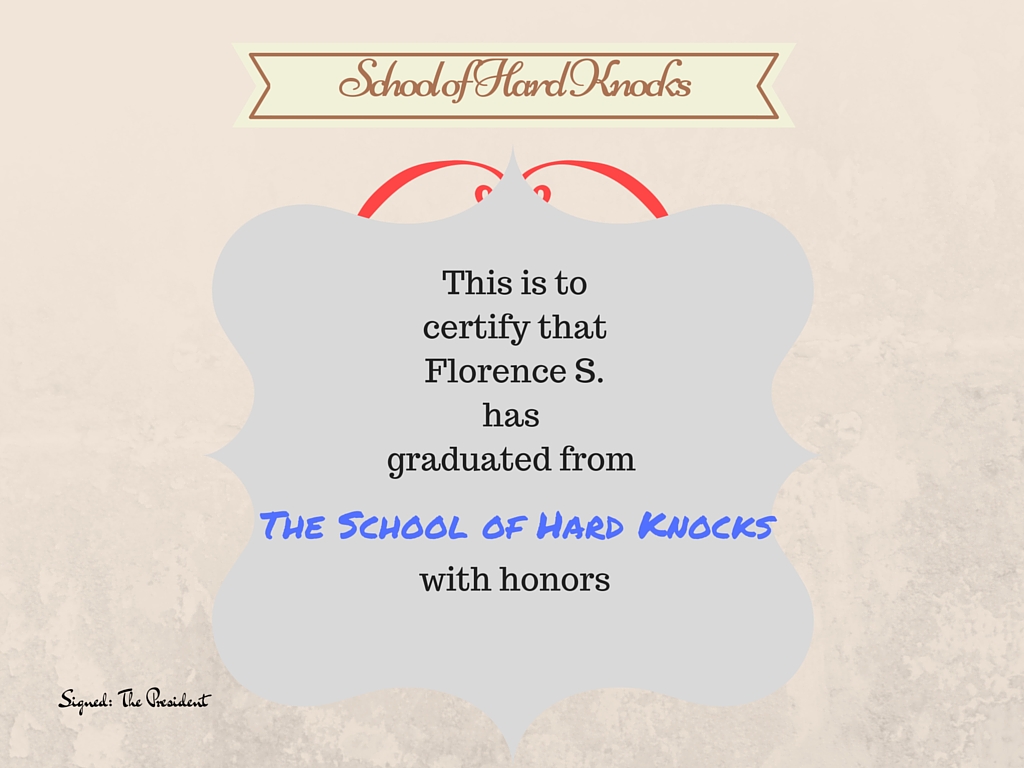 Hopefully you won't be going there because I'm giving you the basics! Just like anything else, you learn by doing.


Anyone else have tips and tricks to share?
Other posts you may enjoy~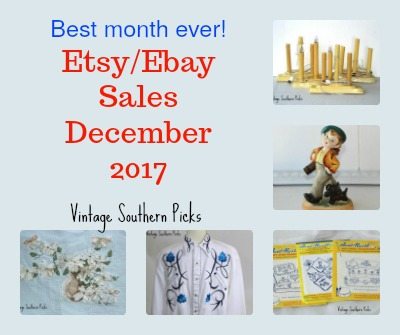 The following two tabs change content below.
As an experienced online seller for 19 years, I reveal some of my selling secrets. In my Vintage Finds posts, I show what I buy for resale, and what sells per month. Because many items are vintage and need TLC, I show the refurbish process to make them attractive for resale. I love picking, junking, thrifting, and shabby chic style.