When trying to decide what to make for the Monthly Craft Destash Challenge, I knew it was my chance to destash a little fabric. I'm giving a hint of Fall with fabric and a wire basket using finds from the thrift and Dollar Stores. I should do a show 'n' tell of my entire fabric stash and it's not pretty, but piled high in old laundry baskets hastily shoved under the bed when company comes.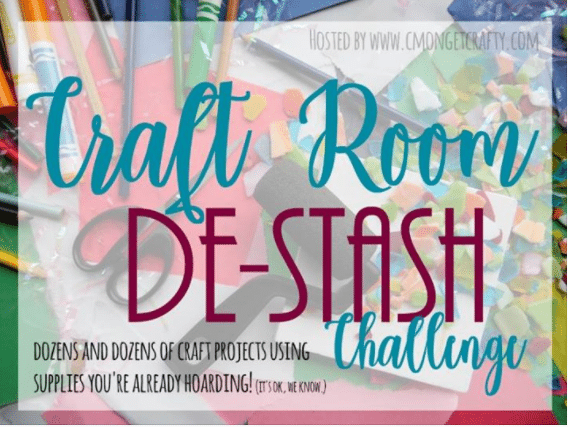 Every month a group of bloggers are challenged by C'mon Get Crafty to create a new craft or project from their own stash of goodies! Check out some awesome creations you might be able to make from your own stash! #CraftRoomDestashChallenge
We are allowed up to $10 for necessary supplies to complete the challenge, and I spent about $2 total.
A couple of months ago, I had so much fun creating DIY Funky Junk Mobile Art. Making a hanging mobile out of bits of junk like old rabies dog tags, old telephone parts, old metal thingies. Check it out if you haven't seen it! I believe it is my most favorite!
[clickToTweet tweet="What crafty creations could you make today from YOUR craft stash?! #CraftRoomDestashChallenge" quote="What crafty creations could you make today from YOUR craft stash?! #CraftRoomDestashChallenge"]
I'd love to make a funky wreath out of the wire basket below, but my front door would never close. As you can see, this is the kind of basket you stick a coco liner in, followed by dirt and a plant. It already sits naturally on its side, and is perfect for an arrangement. But I'll just tell you ahead of time y'all, I'm not the least bit crafty. You should see me at thrift stores turning objects around and around trying to get inspired, but I'm just as clueless before as after. 
Imagine the basket as a lampshade…it's about the right shape, eh? Pinterest has a few lampshade projects showing shades covered with torn fabric strips and I've been wanting to do one ever since I saw it. That was the vision and the plan for this and use up a bit of fabric in the process. The below is my favorite Fall-ish fabric I found several years ago at an estate sale.
By the way, I've got a couple of other lampshade projects here and here, if you need some ideas. I love how they turned out. 
Back to this project~I began by tearing 3/4″-1″ strips…not an exact science, mind you. I started with a small knot at the bottom of the basket, and planned to tie the other end to the rim of the basket.
After several tied strips, I wasn't liking the look at all. So I untied one end and decided to use hot glue instead. That gave better coverage with less gaps. I simply untied the lower knot and glued it to the wire rim instead, slightly overlapping to the strip before it.
The method? Simply fold the top of the strip over the bottom rim of the basket and hot-glue it fabric-on-fabric. Then fold the other end over the top rim of the basket and glued again, fabric-on-fabric.
I have to be honest and tell you that this part of the project was rather tedious & time-consuming. But I finally got all the basket covered like so. 
A stained doily from my huge doily stash went on next to cover the opening at the bottom of the basket. The stain will be covered by the next items to go in.
Here's a Dollar Store pumpkin going in next…
Followed by several Dollar Store pumpkins and gourds from last year….
Toying with the idea of putting more vintage doilies at the top, but decided against it.
You know how I know it's really Fall every year? By all the acorns and hickory nuts that congregate on the grass. Certainly not by the temperatures, because it's still in the 90's here in Alabama. So last year when I wrote "When Hickory Nuts Fall," I got a whole bunch of responses from readers suggesting decorating with them rather than gathering by the buckets full and throwing away like we usually do. It never occurred to me to use them in decor.
How to show them? The basket fit nicely on an old silver tray with the nuts arranged around it, but the nuts don't show up as well as they do in the next photo using a white wooden tray.
Nice, but it still needed something. Well, it so happens that I lucked up on these pretty leaf garlands in a thrift store yesterday, and they are thicker and fuller than those from the Dollar Store.
I'm enjoying the arrangement, and it gives a hint of the coming season until Fall really gets here.
And guess what else I found at the thrift store??? I went to 4 thrift stores and finally found something I could use and liked! I can't resist showing you because you'll probably see it again…this awesome broom! And what, pray tell, does this remind you of???
Hope you like it! 
And now, don't forget to visit the other awesome blogger's beautiful crafty projects below:
INLINKZ: