I love me some shabby chic and you got it with this tabletop shabby Christmas Tree with vintage lace and bridal trim! Everything on the tree was made using vintage and household items. Now since I'm a picker and go to estate sales all the time, naturally I bought some of this stuff in the past, but nothing was bought specifically for this project. As a part of the "C'mon Get Crafty" Link up this month, we are allowed up to $10 for supplies if needed.
Inspiration hit when casually browsing Pinterest one night, and I saw the Shabby Chic lace tree of my dreams!! I fell totally in love. On to youtube where I watched a tutorial on how my vision was created. Now this isn't my tree, but it was THE VISION. Here's the link to this tree if you care to watch: https://www.youtube.com/watch?v=x9uYmZ4gDy4&t=1670s
Isn't it gorgeous??
Using her tutorial as a guide, I used:
A paper towel roll,
a toilet paper roll…fitted into the bottom of the paper towel roll, which gave it greater stability.
3 cardboard discs of graduated sizes spaced  down the paper towel roll. This is to help keep the Christmas tree shape. I cut the round discs from scrap cardboard box, and eyeballed for size. This step doesn't have to be perfect.
Basic Construction
Glue white paper doilies onto the discs in order to hide the ugly cardboard. They can show through the tree. I had to piece all of mine on as I didn't have any the correct size, but this will work just fine.
Cut an opening in the discs large enough for the end of the toilet paper roll to pass through. I found it worked best to trace around the toilet paper roll, then add another 1/4″ and cut along this line.
Put all 3 discs (or however many you make) on the paper towel roll.
Glue them in place with hot glue.
Other Basic Construction Ideas…
You could also use a narrow piece of wood like a dowel or chopstick, stuck down into florist foam, and glued onto a base.
I also saw someone use an old perfume bottle as the base, all of which I thought were charming ideas.
I have a whole LOT of lace remnants, crochet trims, and bridal sparkly bits I bought long ago at an estate sale. Besides loving shabby chic, I have a ton of these on hand, so this was a perfect project for me.
What I Used:
Bits of gathered and non-gathered crochet trims
Bits of gathered and non-gathered lace trims
White tulle bits
White bridal trim
White bits of lacey skirt overlay
Pieces of a tulle shower curtain
Eyelet lace trim…all sizes
Bits of crochet ribbon
Bits of sparkly bridal trim
Moire strips
The Fun Part
Gather all your lace remnants
Girl, you just start a hot-gluing mad frenzy!
Have needle and thread on hand to add gathers to lace and re-gather others. Some of my lace was flat and some needed a bit more gathering love.
After all your lace is on, discs hidden, and tree shaped to your satisfaction, it's time to decorate the tree with whatever bits and bobs you have on hand. (I had pink rhinestone buttons and pink rhinestone flower shapes from bridal trims.)
I loved her use of tiny pearls to decorate with, but I didn't have those. I used what I had on hand.
It took me a whole week to do, working on it as I had time. I'm sure it'll be quicker next time, so don't let this deter you from doing your own tree. Mine is a little different from the vision above. But I LOVE it. See what you think.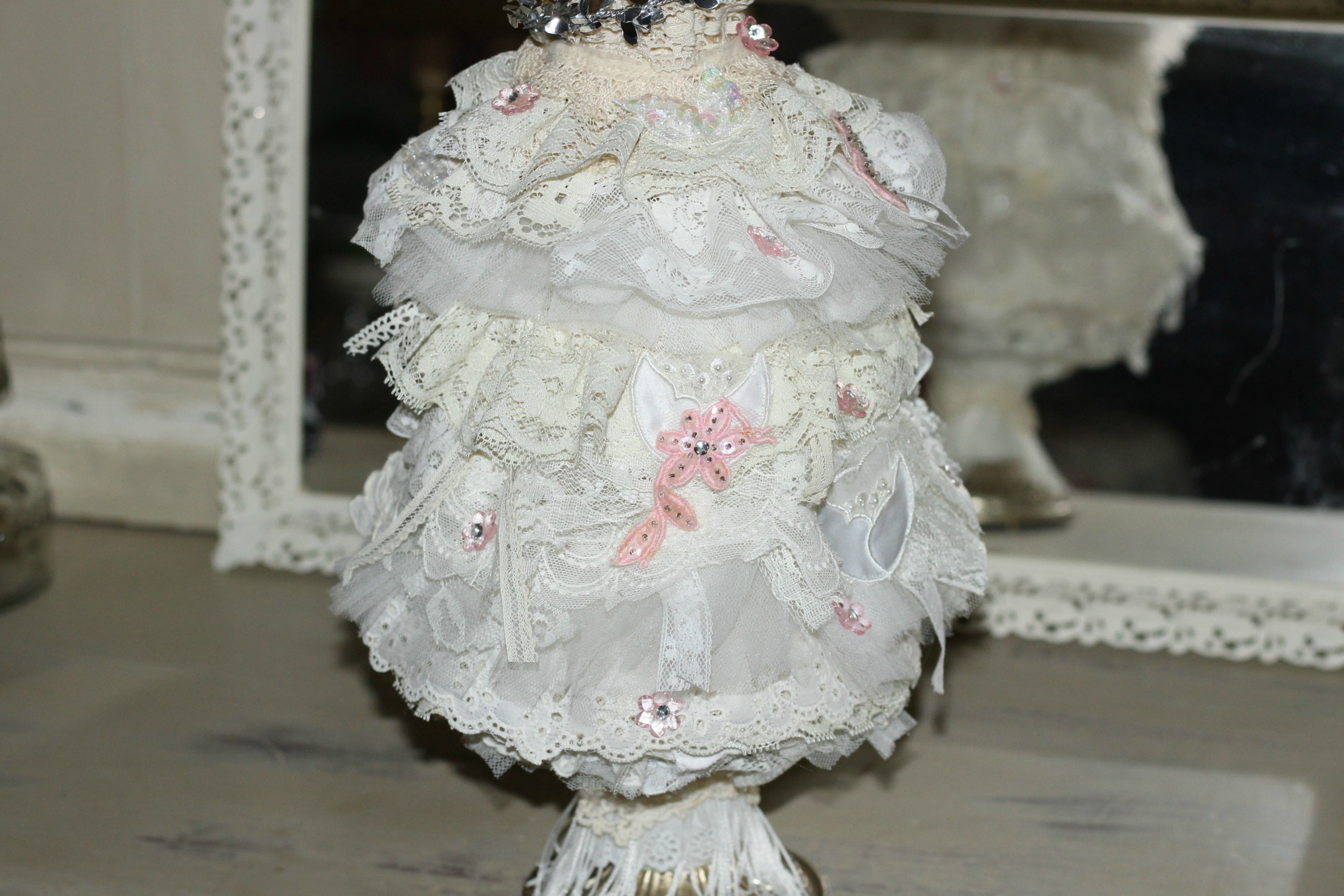 What I Used for the Base
I used a vintage metal lamp part with a threaded rod attached as the stand on which the whole thing rests. Then stuffed a plastic bag inside, wrapped around the rod so the tree would stand straight
If I hadn't had that, I would have used a chipped crystal bowl, gluing the cardboard roll into the bottom.
What I Used for the Topper
The topper was an odd piece I found at an estate sale recently. I keep odd pieces of things around.
I found 2 sparkly tinsel napkin rings in my Christmas stash, which I added to the top.
You could use a cabinet knob as shown in top photo
Mine are large enough to rest on top with no added gluing.
What do you think of the Shabby Chic Christmas tree?
Now be sure to visit all the other fabulous bloggers below, who have more inspiration to share…
Every month a group of bloggers are challenged by
C'mon Get Crafty
to create a new craft or project from their own stash of goodies! Check out some awesome creations you might be able to make from your own stash! #CraftRoomDestashChallenge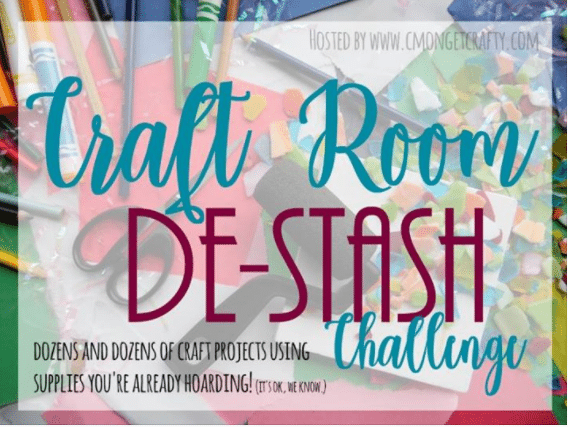 [clickToTweet tweet="What crafty creations could you make today from YOUR craft stash?! #CraftRoomDestashChallenge" quote="What crafty creations could you make today from YOUR craft stash?! #CraftRoomDestashChallenge"]
INLINKZ: