At last! Junker's Downsizing Garage Sale 2018 is over! And I learned some unexpected lessons from it….Again! I think I learn these same ones every time I have a sale.
Getting ready for it took 6 months of my time off and on, and enduring the hubby complaining, "I can't even get to my saws!" Let's just say he was more than ready to reclaim his space. Actually he was very patient putting up with long boards full of knick knacks set up on sawhorses in our basement since way before Christmas last year.
Big relief to get rid of things that wouldn't sell for me in my Etsy shop. Big relief to see them walk out the door with other resellers ready to try their hand with the goods. Maybe they'll have better luck than I did. And how did I know they were resellers?
They come armed with flashlights and magnifying glasses. They're reading the fine print on labels.
They buy unusual things…like a man buying perfume, and a makeup palette?
Men buying collectibles, like Pyrex, and dolls. Gals buying Hot Wheels, and Harley Davidson mugs.
Now it's a lot of fun to watch people and see what they buy! I kept mum about where I got the stuff, even though I had someone ask me. I kept mum about the fact that I'm a reseller too. I don't ever reveal that info.
The Lessons I Learned
How to Price. If you want it to move, price cheap. Price it to move.
People expect to get it for half price on the second day, because they've been programmed by estate sale practices. Garage sales don't have to do that, and I don't unless it still hasn't sold and I want it to move. You just have to make it clear to your customers.
Don't leave your hubby unattended for long (or other assistants helping you) because things walk out the door too cheap.
I hate to say it because it sounds racist, and I don't mean it that way, but Hispanic customers are hard bargainers. Expect them to haggle you down endlessly.
Don't put too much new merchandise out the 2nd day, or it will go too cheap. That was my biggest mistake, but on the other hand, I got rid of it!
Write a good ad with specifics of what you've got. This was my ad:
I'm chancing the rain & having a huge JUNKER'S DOWNSIZING GARAGE SALE that I've been working on the last 2 weeks. I have vintage dolls, vintage kitchen, mid-century modern, home decor, faux flowers, lamp shades, lots of man stuff, garden things like planters, buckets, copper pots, huge amount of lawn edging, storage containers, rolling craft shelves, vintage record player that plays 45's, 33's, & 78's, with built-in speakers, 2 big wooden doors, a wheel barrow only suitable for a yard decoration, box of tile pieces, dash radio units, guitar, wooden pool cues, 7 long bead strands for making a bead curtain, large bag of white tulle used once in weddings, large bag of polyfill, vintage suitcase, bag of used shotgun shells for crafts, sewing notions, other craft items, pillows, sofa slipcover & matching throw pillows, vintage baby bed, (only suitable for repurposing the pieces, not for use as a baby bed), folding tables, lots of misc & oddities. WE HAVE LOTS OF JUNK! 
My man is FINALLY cleaning out HIS junk b/c I told him if I had to do it, almost everything would disappear! 
For more ideas on garage sale ads, see "What Not to Say in Garage Sale Ads."
At least advertise on the free places (Craigs List, Facebook) and above all…show pictures!
Unwritten rule of garage sales: what you think will never sell, goes first, and what you definitely expect to sell, won't.
What Sold Quickly
2 Huge Boxes of Dirty Lawn Edging…
…I tried to get my husband to at least pressure wash them so they would look better
…Failing at that, I suggested we throw it away, or donate since they looked so bad.
…It was the first thing that sold!
Curbside find I couldn't get a vision for of what to do with.
…First thing that sold! (Priced at $3.)
How Being a Blogger Helped with Sales
3 Old Wooden Windows
Being a blogger at the sale was helpful when trying to sell those…not the ones pictured…they're buried in the stack. From reading blogs, and seeing what people do with old windows, I was able to help my customer catch the vision and she bought all the old ones I had.
Rolling Storage Drawers (seen in photo below)
Old Wooden Drawer… (not pictured…a curbside find)
Being a blogger I was able to tell my customer how she could repurpose an old drawer…make shelves or put legs on it and make a table. And she bought my $3 old drawer!
Vintage Record Player
A friend gave me this old record player, used by a former Square Dance caller. It even played 78's, but it needed work, so I was asking $10 even though I've seen them sell on Ebay for $150. Even if it worked, I wouldn't have tried to sell it due to its weight…extremely heavy and shipping would be astronomical. I was lucky someone bought it, and I was thrilled to get rid of it.
What Didn't Sell at All
I spent 30 minutes stripping these shades the day before. Must not have had any bloggers or Shabby Chic lovers at the sale! At $3/each, they didn't sell. I would have bought them.
I was sick that this nice vintage patio table only went for $2.50 because someone assumed I was giving half price. I had just marked it down from $8 to $5 that morning. I shouldn't have marked it down. Another lesson learned.
I couldn't understand why this pretty faux flower arrangement never sold. I anticipated it definitely would.
(Sorry about the quality of these photos…taken in a dark basement, and I forgot to take photos for this post.)
I figured these lawn chairs would go first thing. Guess I wasn't the only one who thought they would be hard to get out of. Or it could have been that I was asking $5 each! I'm sure they would have moved if I was asking $5/both, but I wasn't willing to do that.
Lastly I didn't really expect this to sell, but I was hoping…an Antique Iron Baby Bed I was asking $20 for. (3rd time I've tried to sell it.) One customer said she has read people are now having these old beds refurbished with more rungs to bring them up to code, and they end up in "rich people's homes." Has anyone ever heard of that?
Lastly, expect the unexpected. Like unexpected visitors.
Like this snake…
Slithering across our driveway just as pretty as you please! Now I'm not one of those who panics at the sight of a snake, but I didn't think he made very good PR at our garage sale! Luckily he showed up during a lull in the steady flow of traffic.
We tried to urge him on his way, but he took a turn and curled up in this box of vintage rocker parts we were trying to sell. (By that time the box was on the driveway and the cat wasn't there.)
And I'm like, we've gotta get rid of him! By that time we had another customer, and he heard us talking "snake," and came over to peer in at the famous coiled visitor in the bottom of the plastic box. We're like, "he's not poisonous," and he's like, "it's still a snake."
Next, armed with a broom, we tried to poke him out, but he just stuck his head and tongue out as if to say, "Do you mind? You're bothering me!" And he emitted some kind of awful smell.
So the broom didn't work. Out came the water hose. Spraying a stream of water got him out of the box, but now he was coiled up in a little ball on the driveway. And the hubby sprayed and sprayed. Still he stayed curled in a ball. More spraying. Finally he uncoiled and slithered away into our Spirea bush.
I was glad he didn't go into the neighbor's yard, and stayed in ours. And glad we managed to get him gone before anyone else walked up. Actually, I like snakes, as long as I'm not threatened by them, or they're poisonous, and he wasn't. They are beneficial for eating rodents and insects.
So that's my story and I'm sticking to it.
Expect the unexpected at yard sales.
But the very best thing about the yard sale?
I've got this!
An empty basement!!!
Sharing with these link parties.…
Other posts you may enjoy…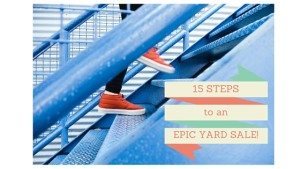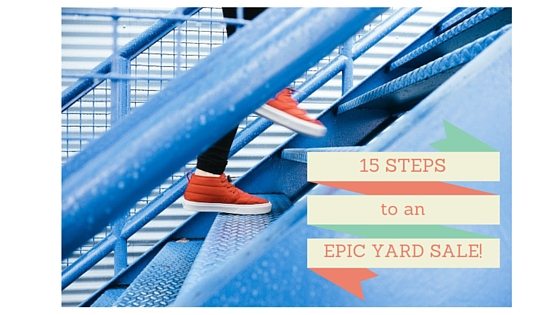 The following two tabs change content below.
As an experienced online seller for 19 years, I reveal some of my selling secrets. In my Vintage Finds posts, I show what I buy for resale, and what sells per month. Because many items are vintage and need TLC, I show the refurbish process to make them attractive for resale. I love picking, junking, thrifting, and shabby chic style.