"Plain Jane purses given fancy makeovers" is my DIY project for the Monthly Craft Destash Challenge! Every month, a group of bloggers challenges each other to create a new craft or project from their own stash of goodies. You can use anything in your stash, but the rule is to not spend over $10 for the supplies you might need to make the project.
Monthly Craft Destash Challenge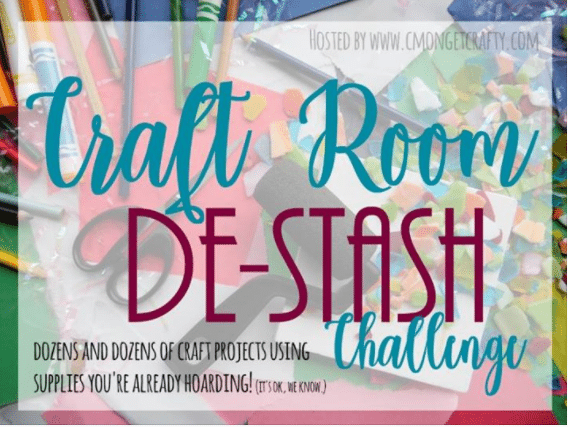 I have so much stash~
Frankly sometimes I don't know where to turn next. Ha! Last month I destashed beads into DIY Funky Junk Mobile Art. I still have a lot of those, so you'll probably see another bead project down the road.
[clickToTweet tweet="What crafty creations could you make today from YOUR craft stash?! #CraftRoomDestashChallenge" quote="What crafty creations could you make today from YOUR craft stash?! #CraftRoomDestashChallenge"]
This month I've been in a quandary, and procrastinated, but I thought of what I wanted to do. I have a whole lot of fabric, trims, doilies and vintage buttons in the stash. I sell a lot of it in my Etsy shop, but I use some in projects too.
Confession: I have a purse fetish too~
I love them…vintage purses, almost vintage purses, vintage style purses, acrylic purses, box purses…you name it. And kicking myself because I purged one I was saving for a repurpose project.
The below purse came from Wal-Mart…a simple straw bag. Nothing wrong with it…just wanted to fancify it. Hubby said he loves to see me with a straw bag because it reminds him of when we were dating. (Aww, that was over 20 years ago!)
So I gathered blue sewing trims, a crochet doily with a blue border, 2 cream doilies, fabric yo-yos I made from men's ties, and beads to create this….
With hot glue, they are there to stay!
The next purse is a vintage one that I've been trying to sell. I love it! It's totally beaded all over, and even has a little coin purse inside, so it most likely dates from the 50's-60's era. Made in Hong Kong.
It hasn't sold though. Do you see the problem on the front?
Yes that stain looks obvious to me, but my man says he didn't see it, so I listed it anyway and hoped for the best. It hasn't sold so time to fix it.
My fix-it method is easy….just glue something over it!
(The method also works on favorite outfits.) The very first night I wore a new denim dress, a huge grease stain just jumped smack dab front and center! Wouldn't you know it? Next day I hustled over to the local fabric store, bought some red stick-on thingys, came home and ironed them randomly all over the dress. Grease spot gone, or at least minimized.
All that to say…glue things over flaws!
OK back to the purses…
I chose another doily and vintage buttons to do this job.
I'm pretty pleased with how these two turned out!
Would you pin? Thank you!
Don't forget to see what the other crafty bloggers have been up to!
Sharing with these link parties~
The following two tabs change content below.
As an experienced online seller for 19 years, I reveal some of my selling secrets. In my Vintage Finds posts, I show what I buy for resale, and what sells per month. Because many items are vintage and need TLC, I show the refurbish process to make them attractive for resale. I love picking, junking, thrifting, and shabby chic style.