What I learned about selling in a booth…and the bottom line…is it right for you?
I was in the antique booth business for only 4 years, but it was long enough to figure out whether it was a right fit for me. What did I learn? It took over my life!!!
Excitedly I jumped in with both feet figuring I would have no trouble keeping a booth filled up. After all, it was just a continuation of the vintage items I was selling online, right?? Not exactly.
What I Learned About Selling in a Booth:
♥ Inventory needs to turn over regularly. Ideally visit your booth once or twice a week to poof, fluff, and rearrange.
♥ Do you have a flair for display to make things look attractive? (My weakest area). Here's my first booth. I was so proud!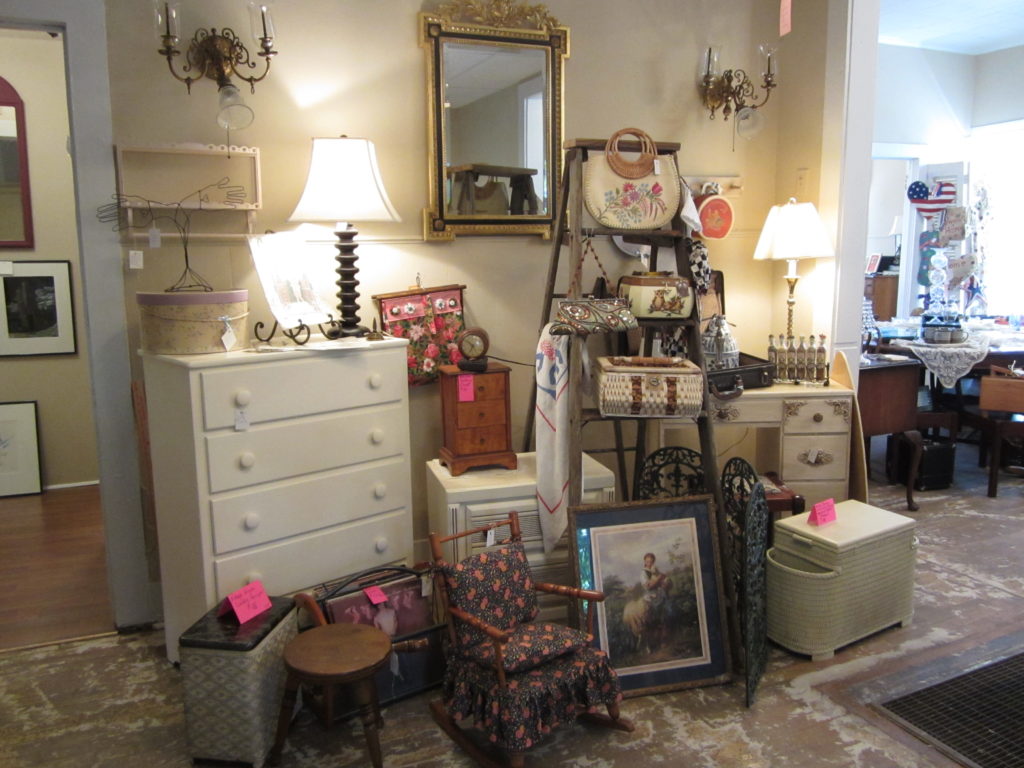 ♥ Do you have big display pieces (chests , bookcases and shelving) available to display wares at eye level? This is very important. Eye level, eye level, EYE LEVEL was preached to me constantly by the mall owner! But see in the photo above? Far too much landed on the floor because I didn't have enough big display pieces!
♥ You better be hustling out every weekend for yard and estate sales, with visits to thrift stores during the week. This is the fun part, (if you're the morning person type)…but the downside? There's tons of competition!
Now if you're not the morning person type…well, let's just say it becomes a hardship getting up so early every weekend. I'm definitely not a morning person. I'm a night owl, so it became tiring very quickly.
♥ Keep a running list of what you take to your booth, what has sold, and what you've removed. I learned the hard way that I couldn't trust the shop owner to keep up with that for me.
♥ Dealing in furniture and other big ticket items tremendously helps the bottom line, but smalls are your bread and butter. Like the little mismatched jewelry pieces below sold well bringing a profit.
I was only asking 50¢ each for them…cheap…but it adds up quickly.
♥ Do you have help to haul furniture to your booth? This is a biggie! Do you have a vehicle to do the hauling? We managed with a small SUV, but a truck would have been great.
♥You will be spending lots of time repairing, painting, and/or repurposing furniture and other items to take to your booth. YES, it takes over your life!
♥Do you have the skill to make those furniture repairs yourself? I depended on my husband to do that for me, but he was retired and had the time. I certainly couldn't have done them myself. I just didn't have the know-how!
♥ Do you have a stock of items to decorate your booth around the major holidays? I tend to sell everything, so am left with nothing to decorate with.
♥ Be aware of what your commissions, credit card fees, and rent amounts are. Rent is a huge chunk of change! The first big item I sold was a large desk. I might as well have handed my entire "profit" to the mall owner in rent!
♥ Consider having insurance for theft losses. We learned there was a kleptomaniac living in the neighborhood, and things displayed outside began disappearing…even when the owner got security cameras! You know how you think it's not going to happen to you?? It did.
♥ Do you have a stock of paint on hand for fixing up your pieces? Paint and supplies are expensive.
♥ Do you have cleverly repurposed items to stand out from the competition? These can fly out the door if priced right, or they can sit!
♥ Be prepared to weather the slow months when nothing is selling. I found that January, June, and September were the slowest selling booth months.
♥ Promote on social media, especially Facebook! It helps get people to the shop by posting what you have for sale. When I started out, I was totally clueless. I had no idea how to promote myself or my shop.
Have I mentioned that a booth takes over your life?? There are days when you don't have time and/or aren't in the mood to go to the booth or work on projects. I worked all the time, even on Sundays, which didn't set well with my husband or me. Little time was left over for other pursuits. I miss it, but barely had time to glance at my Etsy/Ebay shop, much less create a listing! Maybe some can, but I couldn't do both.
Booth dwellers out there, what are your thoughts and experiences?
PLEASE PIN OR SHARE!
The following two tabs change content below.
As an experienced online seller for 19 years, I reveal some of my selling secrets. In my Vintage Finds posts, I show what I buy for resale, and what sells per month. Because many items are vintage and need TLC, I show the refurbish process to make them attractive for resale. I love picking, junking, thrifting, and shabby chic style.